The 2nd International Symposium on Organic Reaction Mechanism
时间:2018-03-16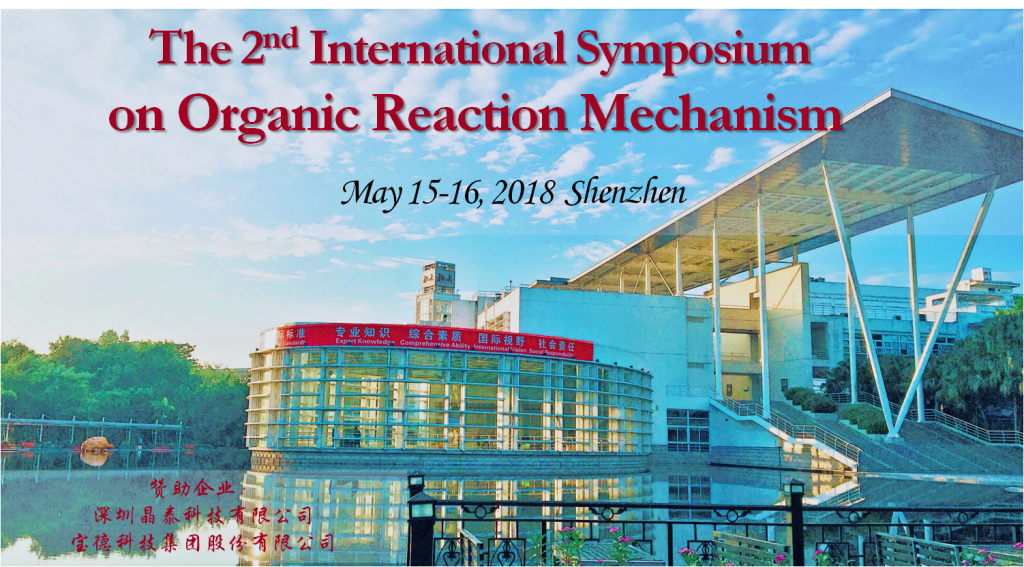 The 2nd International Symposium on Organic Reaction Mechanism, in honor of Prof. Ken Houk will be held on May 15-16, 2018. We would like to invite you to attend this symposium. So far, the confirmed speakers are as follows (updated at March 23, 2018) :
Keynote Speakers:
Kuiling Ding (CAS, Shanghai Institute of Organic Chemistry)
Jiali Gao (Univ. Minnesota)
Yiqin Gao(Peking Univ.)
Robert H. Grubbs (CalTech)
William L. Jorgensen (Yale Univ.)
Zhenyang Lin (HKUST)
Robert Paton (Colorado State Univ.)
Franziska Schoenebeck (RWTH Aachen Univ.)
Peter R. Schreiner(Justus-Liebig-Univ. Giessen)
Yi Tang (UCLA)
Dean J. Tantillo (UC Davis)
Meixiang Wang (Tsinghua Univ.)
Paul A. Wender (Stanford Univ.)
Jishan Wu (National Univ. Singapore)
Zhixiang Yu (Peking Univ.)
Donghui Zhang (CAS, Dalian Institute of Chemical Physics)

Invited Speakers:
Paul Ha-Yeon Cheong (Oregon State Univ.)
Lung Wa Chung (South Univ of Science & Technology of China)
Daniel H. Ess (Brigham Young Univ.)
Osvaldo Gutierrez (Univ. Maryland)
Lei Jiao (Tsinghua Univ.)
Kizashi Yamaguchi (Osaka Univ.)
Yu Lan (Chongqing Univ.)
Jian Liu (Merck Sharp & Dohme)
Peng Liu (Univ. of Pittsburgh)
Steven A. Lopez (Northeastern Univ.)
Kenji Watanabe (Univ. Shizuoka)
Yi-Lei Zhao (Shanghai Jiaotong Univ.)
Here is the tentative schedule.
Monday, May 14 th
         Registration
Tuesday, May 15 th
         09:00-12:20    Lecture Section
         12:20-14:00    Lunch & Break
         14:00-16:35    Lecture Section
         16:50-18:30    Poster Session & Discussion
         18:30-20:30    Banquet
Wednesday, May 16th
         09:00-12:20    Lecture Section
         12:20-14:00    Lunch & Break
         14:00-17:30    Lecture Section
         17:30-18:00    Excellent Posters Award, Farewell and Conference Closure
        If you are going to join us, please kindly reply with your registration form and the abstract (if you want to give a poster) via grubbshouk@foxmail.com by April 25, 2018. Attached please find the registration form, and please be aware of the followings,
        a)The registration fee is 1000 RMB (Faculty) and 800 RMB (Post-Doc/Students). Please note that the registration fee should be transferred to the bank account listed below by April 25, and please write the transfer date in the registration form.

户  名:北京大学深圳研究生院
Account name : Peking University Shenzhen
开户行:平安银行深圳大学城支行
帐  号(account No):0142100325105
Note:Please specify "Your name + ISORM2" in your transfer.
           转账时请注明:姓名+ ISORM2
        b) Size for the Poster is 90cm*120cm, and you should print it out and hand it in when registration.
        We hope you will enjoy an intense intellectual exchange in a very relaxed atmosphere. We look forward to seeing you in Shenzhen.

The Organization Committee
Registration Form
Abstract Template