Part I-Book and Book Chapters
Part Ⅱ-Publications in peer-reviewed journals
More details:

Part I- Book and Book Chapters:
"Modern Catalytic Methods for Organic Synthesis with Diazo Compounds: From Cyclopropanes to Ylides" (652 pages), Michael. P. Doyle, M. Anthony McKervey, Tao Ye, John Wiley & Sons, Inc., New York. 1998
Zhengshuang Xu, Tao Ye "Chapter 12, Thiazoline/thiazole and their derivatives" Pages: 459–505, in "Heterocycles in Natural Product Synthesis" Ed. by Majumdar & Chattopadhyay, WILEY-VCH, Verlag GmbH & Co. KGaA, Weinheim, 2011.
Siti Mariam, Zhengshuang Xu, Tao Ye "Chapter 16, Bioactive Macrocyclic Natural Products", Pages: 569–619, in "Heterocycles in Natural Product Synthesis" Ed. by Majumdar & Chattopadhyay, WILEY-VCH, Verlag GmbH & Co. KGaA, Weinheim, 2011.
"Metal Catalysed Cyclopropanation" Tao Ye, M. Anthony McKervey, Chapter 11 in "The Chemistry of Cyclopropyl Group", Vol. 2; page 657-706, Rappoport, Z., Ed.; John Wiley & Sons Ltd., Chichester, 1995.
"Doubly Bonded Metalloid Functions (Si, Ge, B)" Tao Ye, M. Anthony McKervey, Chapter 3.14 in book: "Comprehensive Organic Functional Group Transformation", 3, page 501-505, A.R. Katritzky, O. Meth-Cohn and C.W. Rees, Eds. Pergamon, Oxford, 1995.
"Doubly Bonded Metal Functions" Tao Ye, M. Anthony McKervey, Chapter 3.15 "Comprehensive Organic Functional Group Transformation", Vol. 3, page 507-523, R. Katritzky, O. Meth-Cohn and C.W. Rees, Eds. Pergamon, Oxford, 1995.
Part Ⅱ- Publications in peer-reviewed journals:
Asymmetric Total Syntheses of Kopsane Alkaloids via a PtCl2 -Catalyzed Intramolecular [3+2] Cycloaddition. Angew. Chem. Int. Ed. 2020, 59, 1–6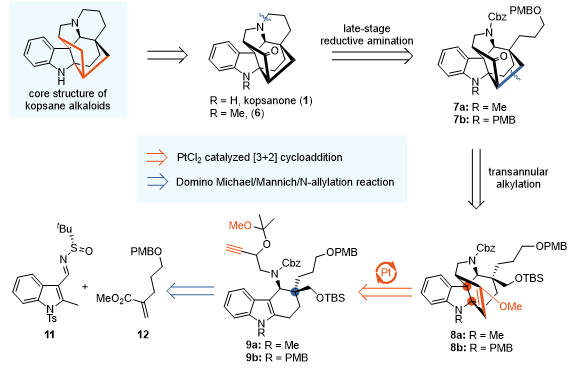 Abstract: A concise and asymmetric total synthesis of five kopsane alkaloids that share a unique heptacyclic caged ring system was accomplished. The key transformation in the sequence involved a remarkable PtCl 2 -catalyzed intramolecular [3+2] cycloaddition, which allowed for the rapid assembly of pentacyclic carbon skeletons bearing 2,3-quaternary functionalized indoline. Expeditious construction of diverse indoline scaffolds with excellent control of diastereoselectivity demonstrated the broad scope and versatility of this key transformation.
Total synthesis of antiallergic bicyclic peptide seongsanamide A. Org. Chem. Front.2020, Advance Article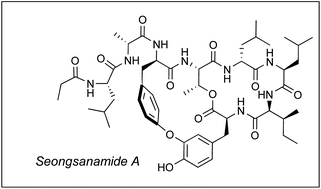 Abstract: The first total synthesis of antiallergic depsipeptide seongsanamide A has been achieved and also the relative and absolute stereochemistry of the natural product has been confirmed. Highlights of the convergent route include the use of Miyuara borylation, Chan–Evans–Lam coupling for the effective assembly of the isodityrosine subunit and the identification of an effective macrocyclization site in very high conversion. The longest linear sequence leading to seongsanamide A was 12 steps, with an overall yield of 12.7%.
Total Synthesis and Biological Evaluation of Kakeromamide A and Its Analogues. Front. Chem. 2020, 8, Article 410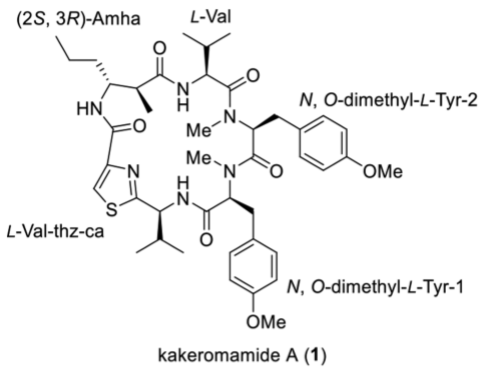 ABSTRACT: Kakeromamide A (1), the first marine cyclopeptide inducing neural stem cells differentiation into astrocytes, was synthesized in 12 longest linear steps and 14% overall yield. Using this synthetic approach, four analogs of kakeromamide A were prepared and evaluated for neural differentiation- modulating activity.
Total Synthesis of Dysoxylactam A. Org. Lett. 2020, 22, 1776−1779

ABSTRACT: The total synthesis of a potent multi-drug-resistant reverser, dysoxylacatam A (1), was achieved in a highly efficient and stereocontrolled fashion. The highlights of the strategy enlisted an iterative combination of lithiation−borylation tactics including Aggarwal homologation and Matteson homologation, Brown crotylation, Krische allylation, and ring-closing metathesis to forge the macrocycle.
Nine‐Step Total Synthesis and Biological Evaluation of Rhizonin A. Chin. J. Chem. 2019, 37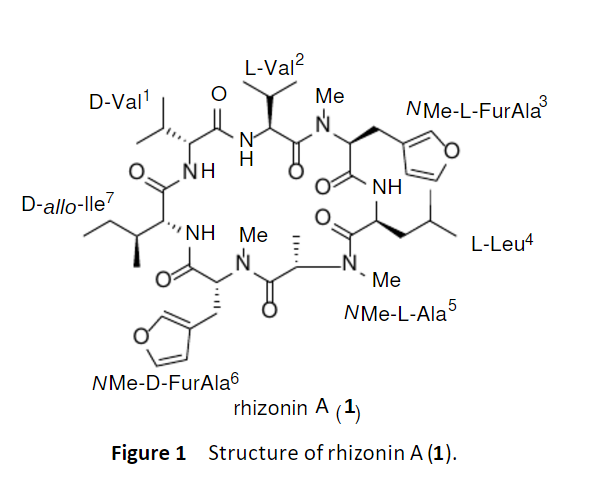 Summary of main observation and conclusion: We have achieved the total synthesis of an architecturally and biologically intriguing cyclic polypeptide, rhizonin A (1 ), in an exceptionally concise and convergent fashion. The strategic route entails 9 longest linear steps to elaborate commercially available materials into the natural product with an overall yield of 9.7%. Brevity of sequence and high overall yield were fueled by judicious selection of chemical tactics. Rhizonin A (1 ) showed weak inhibitory effects on the cell viability of HCT116 colorectal cancer cells and this activity was dependent on hypoxia‐inducible factors.
Total Synthesis of Psymberin (Irciniastatin A) Org. Lett. 2019, 21, 3670-3673
ABSTRACT: A convergent, stereocontrolled total synthesis of psymberin, an architecturally complex marine antitumor agent, has been achieved in 27 steps from the known aldehyde 8. Highlights of this synthesis include a novel and efficient transannular Michael addition/lactone reduction sequence to construct the highly substituted 2,6-trans-tetrahydropyran, a diastereoselective IBr-induced iodocarbonate cyclization to introduce the C17 stereogenic center, and a Diels–Alder/aromatization reaction to install the highly substituted aromatic ring.
Total Synthesis of Hoiamide A Using an Evans−Tishchenko Reaction as a Key Step,Org. Lett. 2019, 21

ABSTRACT: The first total synthesis of neurotoxic cyclodepsipeptide hoiamide A (1) has been accomplished. The synthesis features the use of an Evans−Tishchenko fragment coupling between a five-stereogenic-center-containing βhydroxyketone and a chiral aldehyde derived from threonine.
Discovery of Amantamide, a Selective CXCR7 Agonist from Marine Cyanobacteria, Org. Lett. 2019, 21, in press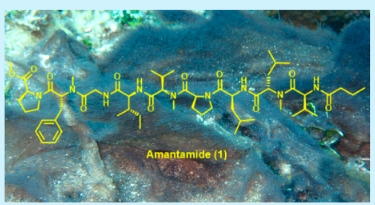 ABSTRACT: CXCR7 plays an emerging role in several physiological processes. A linear peptide, amantamide (1), was isolated from marine cyanobacteria and the structure determined by NMR and mass spectrometry. The total synthesis was achieved by solid-phase method. After screening two biological target libraries, 1 was identified as a selective CXCR7 agonist. The selective activation of CXCR7 by 1 could provide the basis for developing CXCR7 targeted therapeutics and deciphering the role of CXCR7 in different diseases.
Isolation, Structure Elucidation and Biological Evaluation of Lagunamide D: A New Cytotoxic Macrocyclic Depsipeptide from Marine Cyanobacteria, Mar. Drugs 2019, 17, 83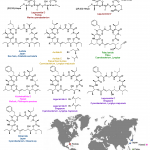 ABSTRACT: LagunamideD, a new cytotoxic macrocyclic depsipeptide, was discovered from a collection of marine cyanobacteria from Loggerhead Key in the Dry Tortugas, Florida. An intramolecular ester exchange was observed, where the 26-membered macrocycle could contract to a 24-membered compound via acyl migration at the 1,3-diol unit, and the transformation product was named lagunamide D'. The planar structures of both compounds were elucidated using a combination of nuclear magnetic resonance (NMR) spectroscopy and high-resolution mass spectroscopy (HRMS). The absolute configurations were determined on the basis of enantioselective analysis, modified Mosher's analysis, Kishi NMR database, and direct comparison with lagunamide A, a structure closely resembling lagunamide D. Lagunamides A and D displayed low-nanomolar antiproliferative activity against A549 human lung adenocarcinomacells, while the structural transformation from the 26-membered lagunamide D macrocycle to the 24-membered ring structure for lagunamide D' led to a 9.6-fold decrease in activity. Lagunamide D also displayed potent activity in triggering apoptosis in a dose- and time-dependent manner. Further investigation on the mechanism of action of the lagunamide scaffold is needed to fully explore its therapeutic potential as an anticancer agent.

Chemical and Metagenomic Studies of the Lethal Black Band 2 Disease of Corals Reveal Two Broadly Distributed, Redox-Sensitive 3 Mixed Polyketide/Peptide Macrocycles, J. Nat. Prod. 2019, 82, 111-121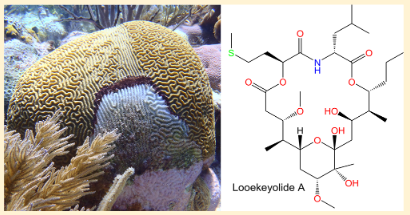 ABSTRACT: Black band disease (BBD), a lethal, polymicro bial disease consortium dominated by the cyanobacterium Roseofilum reptotaenium, kills many species of corals worldwide. To uncover chemical signals or cytotoxins that could be important in proliferation of Roseofilum and the BBD layer, we examined the secondary metabolites present in geographically diverse collections of BBD from Caribbean and Pacific coral reefs. Looekeyolide A (1), a 20-membered macrocyclic compound formed by a 16-carbon polyketide chain, 2 deamino-2-hydroxymethionine, and D-leucine, and its autoxidation product looekeyolide B (2) were extracted as major compounds (∼1 mg g −1 dry wt) from more than a dozen field-collected BBD samples. Looekeyolides A and B were also produced by a nonaxenic R. reptotaenium culture under laboratory conditions at similar concentrations. R. reptotaenium genomes that were constructed from four different metagenomic data sets contained a unique nonribosomal peptide/polyketide biosynthetic cluster that is likely responsible for the biosynthesis of the looekeyolides. Looekeyolide A, which readily oxidizes to looekeyolide B, may play a biological role in reducing H2O2 and other reactive oxygen species that could occur in the BBD layer as it overgrows and destroys coral tissue.
Solution-Phase Total Synthesis of Teixobactin, Org. Biomol. Chem. 2019, 16, 1141-1153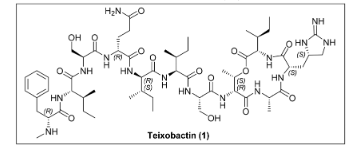 ABSTRACT: The first solution-phase total synthesis of the cyclic depsipeptide teixobactin is described. Stereoselective construction of L-allo-enduracididine was established, the protective groups for peptide coupling reactions and conditions for fragments assembly were also optimised. The total synthesis featured by 20-step longest linear steps from the known Lcis-4-hydroxyproline derivative in 5.6% overall yield. This solution-phase total synthesis could serve as complement for current solid-phase synthesis of teixobactin.
Total Synthesis of Anti-tuberculosis Natural Products Ilamycins E1 and F, Org. Lett. 2018, 20, 6166−6169.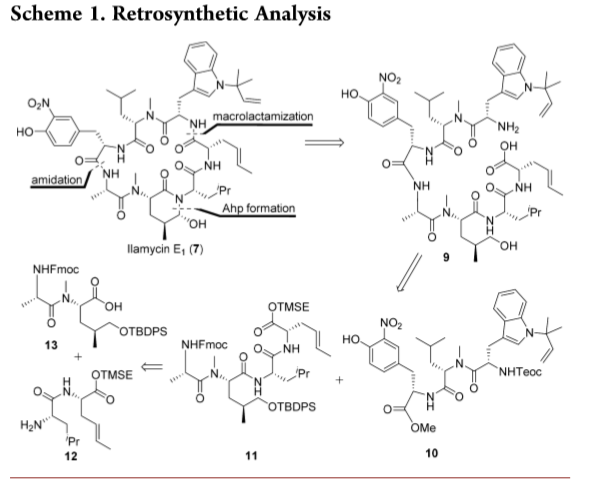 ABSTRACT: The first total synthesis of the potent antituberculosis cyclopeptide natural products ilamycins E1 and F was achieved. This highly convergent strategy consists of the synthesis of the two units 10 and 11 and linking them together to form the macrocyclic lactam 31. The upper unit 10 was prepared from tryptophan in five steps, and the lower unit 11 was prepared from glutamic acid in thirteen steps. Conversion of ilamycin F, the most abundant of the cyclopeptides, into the more active congener, ilamycin E1, was also accomplished. This would provide sufficient material of ilamycin E1 for more extensive biological studies.

Sameuramide A, a new cyclic depsipeptide isolated from an ascidian of the family Didemnidae, Bioorganic & Medicinal Chemistry. 2018, 26, 3852–3857.

ABSTRACT: Sameuramide A (1), a new cyclic depsipeptide encompassing one each of alanine, N-methyl alanine, N-methyl dehydroalanine, N,O-dimethyl threonine, phenyllactic acid, three β-hydroxy leucines, and two propionates, was isolated from a didemnid ascidian collected at the northern part of Japan. The planar structure was established based on the interpretation of MS and NMR data. The absolute configuration of the subunits was determined by the advanced Marfey's method and the chiral LC-MS analysis. Compound 1 exhibited the activity of maintaining colony formation of murine embryonic stem (mES) cells without leukemia inhibitory factor (LIF). Down regulation of the gene expression of Krüppel-like transcription factor 4 (Klf4) indicated that 1 itself was not able to maintain the undifferentiated state of the mES cells. However, the expression levels of the marker genes (Nestin, T, Sox17) for three germ layers were upregulated in embryoid bodies (EBs) after treatment of 1 together with LIF, suggesting that 1 plays a supportive role for LIF in maintaining the multipotency of mES cells.

Discovery, Synthesis, Pharmacological Profiling, and Biological Characterization of Brintonamides A−E, Novel Dual Protease and GPCR Modulators from a Marine Cyanobacterium , J. Med. Chem. 2018, 61, 6364−6378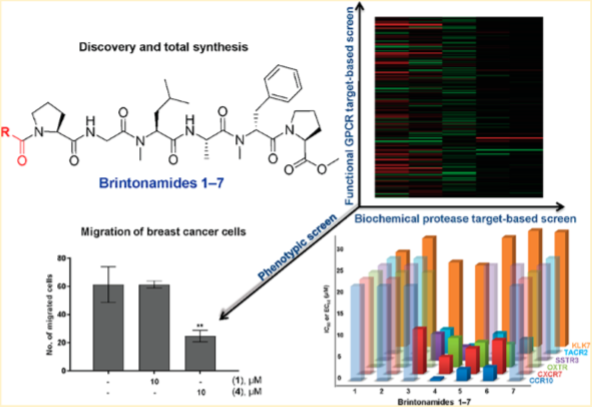 ABSTRACT: Five novel modified linear peptides named brintonamides A−E( 1−5) were discovered from a marine cyanobacterial sample collected from Brinton Channel, Florida Keys. The total synthesis of 1−5 in addition to two other structurally related analogues (6 and 7) was achieved, which provided more material to allow rigorous biological evaluation and SAR studies. Compounds were subjected to cancerfocused phenotypic cell viability and migration assays and orthogonal target-based pharmacological screening platforms to identify their protease and GPCR modulatory activity profiles. The cancer related serine protease kallikrein 7 (KLK7) was inhibited to similar extents with an IC50 near 20 μM by both representative members 1 and 4, which differed in the presence or lack of the N-terminal unit. In contrast to the biochemical protease profiling study, clear SAR was observed in the functional GPCR screens, where five GPCRs in antagonist mode (CCR10, OXTR, SSTR3, TACR2) and agonist mode (CXCR7) were modulated by compounds 1−7 to varying extents. Chemokine receptor type 10 (CCR10) was potently modulated by brintonamide D (4) with an IC50 of 0.44 μM. We performed in silico modeling to understand the structural basis underlying the differences in the antagonistic activity among brintonamides toward CCR10. Because of the significance of KLK7 and CCR10 in cancer progression and metastasis, we demonstrated the ability of brintonamide D (4) at 10μM to significantly target downstream cellular substrates of KLK7 (Dsg-2 and E-cad) in vitro and to inhibit CCL27-induced CCR10mediated proliferation and the migration of highly invasive breast cancer cells.
Total Synthesis of Asperphenins A and B,Org. Lett. 2018, 20, 6170-6173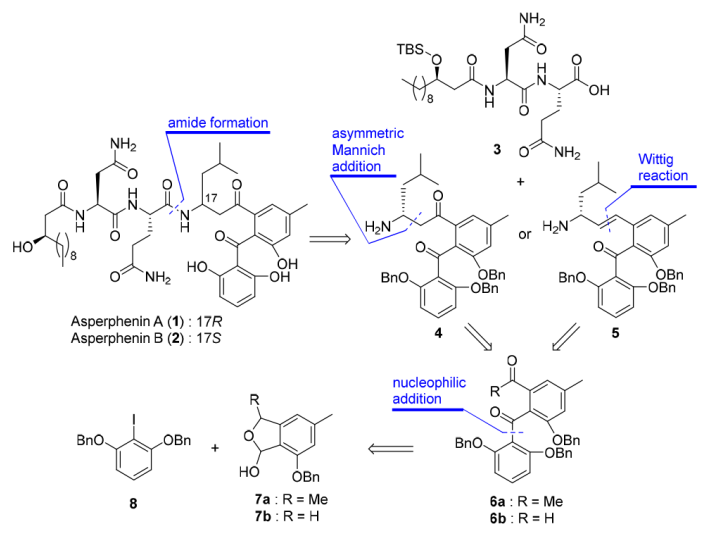 ABSTRACT: The first total synthesis of asperphenins A and B has been accomplished in a concise, highly stereoselective fashion from commercially available materials (15 steps, 9.7% and 14.2% overall yields, respectively). The convergent route featured the judicious choice of protecting groups, fragment assembly strategy and a late-stage iron-catalyzed Wacker-type selective oxidation of an internal alkene to the corresponding ketone.

Genome Mining and Assembly-Line Biosynthesis of the UCS1025A Pyrrolizidinone Family of Fungal Alkaloids, J. Am. Chem. Soc. 2018, 140, 2067-2071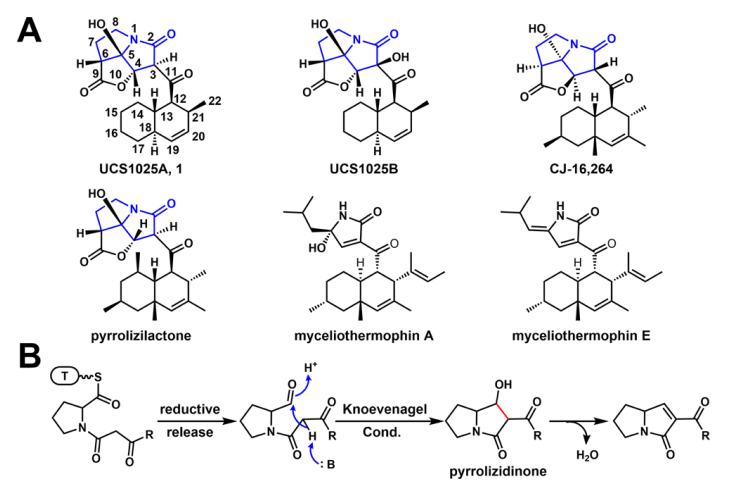 Abstract: UCS1025A is a fungal polyketide/alkaloid that displays strong inhibition of telomerase. The structures of UCS1025A and related natural products are featured by a tricyclic furopyrrolizidine connected to a trans-decalin fragment. We mined the genome of a thermophilic fungus and activated the ucs gene cluster to produce UCS1025A at a high titer. Genetic and biochemical analysis revealed a PKS-NRPS assembly line that activates 2S,3S-methylproline derived from L-isoleucine, followed by Knoevenagel condensation to construct the pyrrolizidine moiety. Oxidation of the 3Smethyl group to a carboxylate leads to an oxa-Michael cyclization and furnishes the furopyrrolizidine. Our work reveals a new strategy used by nature to construct heterocyclic alkaloid-like ring systems using assembly line logic.

Formal Synthesis of Kanamienamide, Synlett 2018, 29, 964–968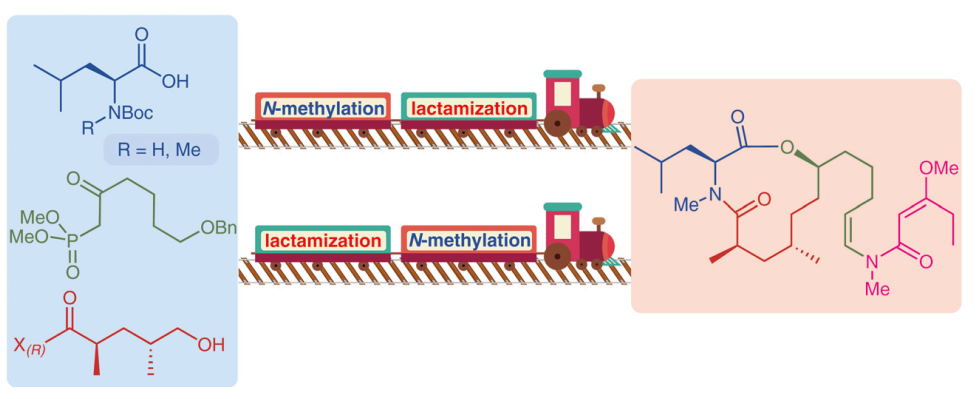 Abstract: A formal total synthesis of the anticancer natural product kanamienamide has been accomplished. This communication describes two approaches to the macrocyclic core of the natural product. The key features of the route include an efficient macrolactamization, a Corey–Bakshi–Shibata asymmetric reduction, and a Stork–Zhao–Wittig olefination.
Total synthesis of Luteoalbusin A and formal synthesis of T988C, Synlett 2018, 29, 613-616

Studies toward the Synthesis of Iriomoteolide-2a: Construction of the C(6)−C(28) Fragment, Org. Lett. 2018, 20, 2213-2215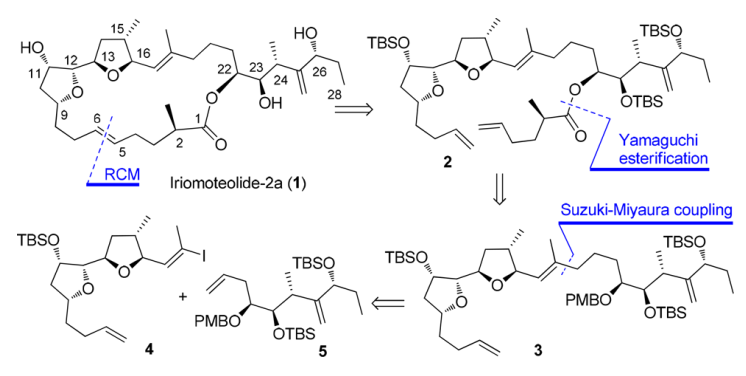 Abstract: The synthesis of an appropriately functionalized advanced C(6-28) fragment (3) of the marine macrolide iriomoteolide-2a (1) has been achieved in a highly efficient manner. The C(6)-C(18) fragment of 1 is prepared via a radical cyclization of a vinyl ether intermediate and palladium-promoted hydrostannylation/iodination. Paterson aldol reaction and Peterson olefination are used to construct the C(19)-C(28) fragment. The union of the C(6)-C(18) and C(19)-C(28) fragments is accomplished via a Suzuki-Miyaura coupling reaction.
Total synthesis of amphidinins E, F and epi-amphidinin F,Org. Chem. Front., 2017,ASAP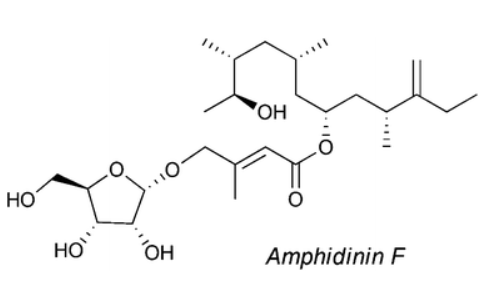 Abstract:A unified approach leading to the total synthesis of amphidinins E, F and epi-amphidinin F of a new structural class of linear marine polyketides is described

Total syntheses of smenothiazoles A and B,Org. Biomol. Chem., 2017, 15, 7196–7203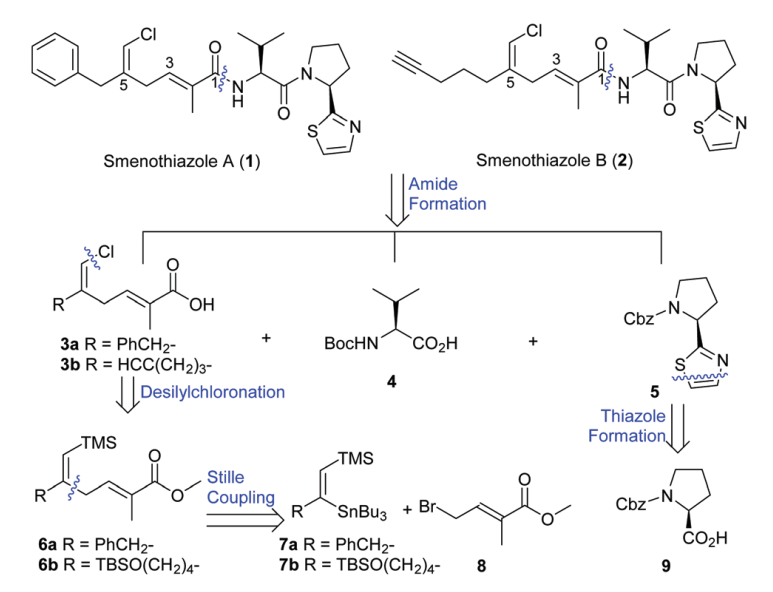 Abstract:Concise total syntheses of smenothiazoles A (1) and B (2), two distinguished vinyl chloride containing natural products isolated from the marine sponge S. aurea, have been developed. Silastannation, Stille reaction and a carefully controlled desilylchlorination were employed as key steps to construct unique polyketide acid fragments, and the optimized reaction conditions avoided migration of 2,5-diene to a 2,4-conjugated system. This report unambiguously confirmed the structures of both natural products
Regio- and Stereospecific Construction of 3a-(1H-Indol-3-yl)pyrrolidinoindolines and Application to the Formal Syntheses of Gliocladins B and C,Org. Lett. 2017, 19, 5134−5137

Abstract: A one-pot regio- and stereospecific strategy for the construction of 3a-(3-indolyl)-hexahydropyrrolo[2,3-b]indoles based on the condensation of an indole and an in situ generated cyclopropylazetoindoline has been developed. This unified strategy works with a variety of substituted indoles to produce 3a-(3-indolyl)-hexahydropyrrolo[2,3-b]indole products in high yields. The utility of this transformation was highlighted in the formal total syntheses of gliocladins B and C.
Total Synthesis and StereochemicalAssignment of Actinoranone,Chem. Eur.J .2017, 23,3572–3576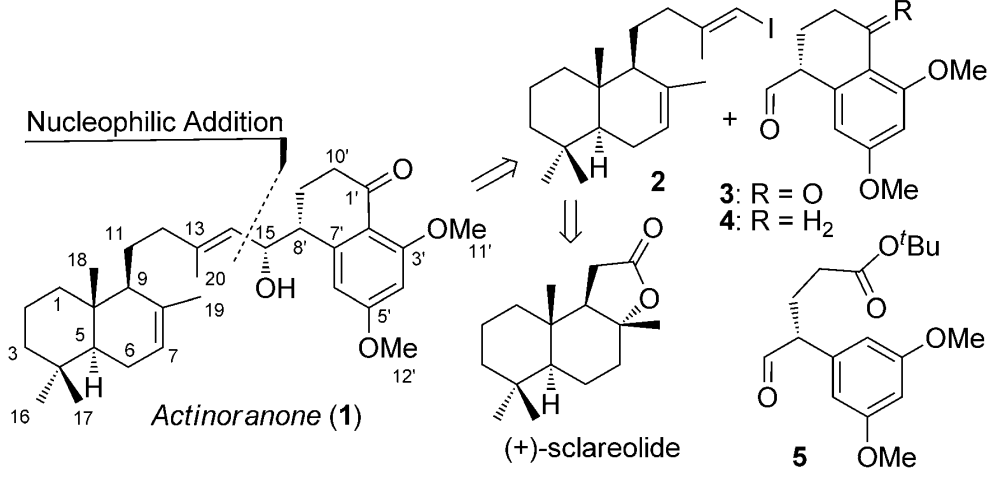 Abstract: The total synthesis of four actinoranone stereoisomersled to unambiguous assignment of relative and absolute stereochemistry of the natural product. Key features of the convergent, fully stereocontrolled route include the use of aN egishi carbozirconation/iodination, a Friedel–Craftscyclization,aFelkin-controlled additionreaction,aMitsunobu reaction, and alate-stage C-H oxidation.
Concise Total Synthesis of Nannocystin A,Angew. Chem. Int. Ed. 2016, 55, ASAP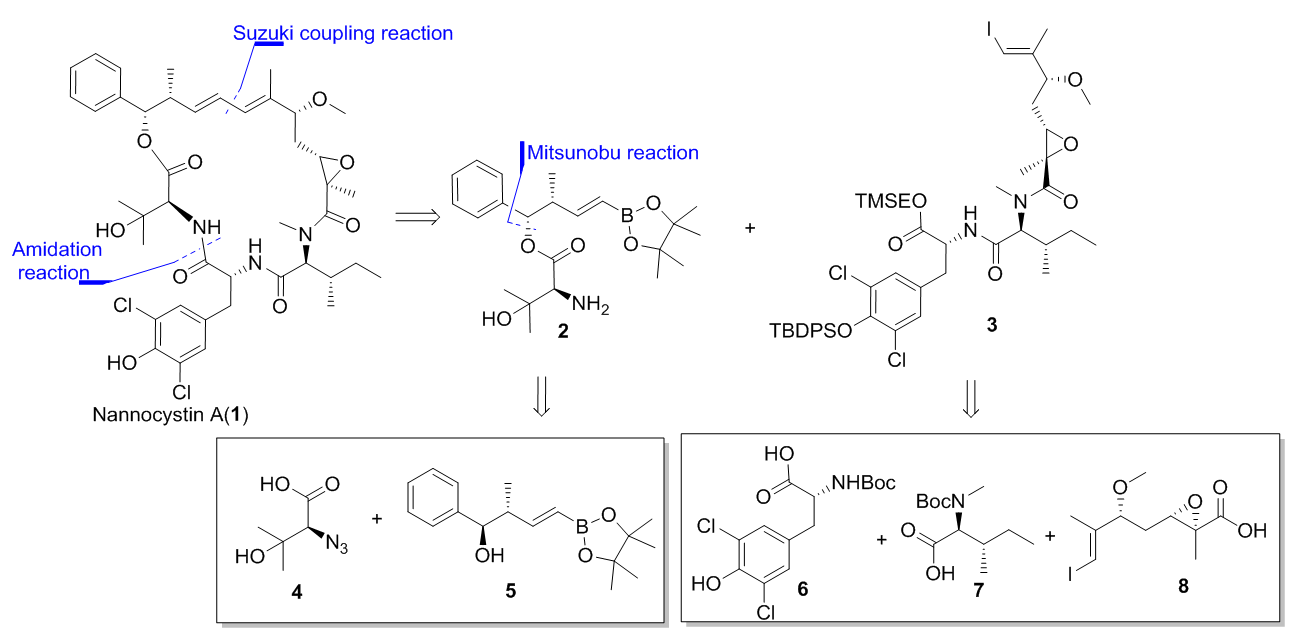 Abstract:Nannocystin A, a structurally unique 21-membered macrocyclic depsipeptide with low nanomolar inhibitory activity against elongation factor 1A, was synthesized according to a strategy involving the vinylogous Mukaiyama aldol reaction, Sharpless epoxidation, olefin metathesis, the Mitsunobu reaction, and a palladium-catalyzed intramolecular Suzuki coupling of a highly complex cyclization substrate. The overall synthesis is efficient and paves the way for preparation of analogues for drug development efforts.
Total Synthesis and Stereochemical Assignment of Callyspongiolide, J. Am. Chem. Soc., 2016, 138, 6948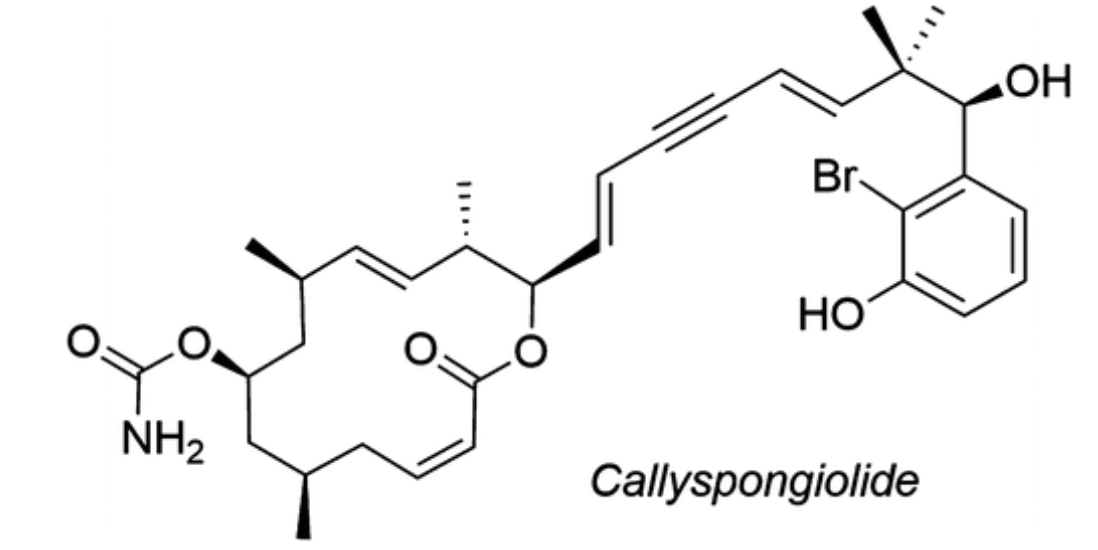 Abstract: Total synthesis of four callyspongiolide stereoisomers led to unambiguous assignment of relative and absolute stereochemistry of the natural product. Key features of the convergent, fully stereocontrolled route include the use of Krische allylation, Kiyooka Aldol reaction, Kociénski−Julia olefination, Still−Gennari olefination, Yamaguchi macrocyclization, and Sonogashira coupling reaction. Biological evaluation of the synthesized compounds against an array of cancer cells revealed that the stereochemistry of the macrolactone core played an important role.
Discovery, Total Synthesis and Key Structural Elements for the Immunosuppressive Activity of Cocosolide, a Symmetrical Glycosylated Macrolide Dimer from Marine Cyanobacteria, Chem. Eur. J., 2016, 22, 8158

Abstract: A new dimeric macrolide xylopyranoside, cocosolide (1), was isolated from the marine cyanobacterium preliminarily identified as Symploca sp. from Guam. The structure was determined by a combination of NMR spectroscopy, HRMS, X-ray diffraction studies and Mosher's analysis of the base hydrolysis product. Its carbon skeleton closely resembles that of clavosolides A–D isolated from the sponge Myriastra clavosa, for which no bioactivity is known. We performed the first total synthesis of cocosolide (1) along with its [α,α]-anomer (26) and macrocyclic core (28), thus leading to the confirmation of the structure of natural 1. The convergent synthesis featured Wadsworth–Emmons cyclopropanation, Sakurai annulation, Yamaguchi macrocyclization/dimerization reaction, α-selective glycosidation and β-selective glycosidation. Compounds 1 and 26 potently inhibited IL-2 production in both T-cell receptor dependent and independent manners. Full activity requires the presence of the sugar moiety as well as the intact dimeric structure. Cocosolide also suppressed the proliferation of anti-CD3-stimulated T-cells in a dose-dependent manner.
The total synthesis and stereochemical assignment of scytonemin A, Chem. Commun.,2016, 52, 1002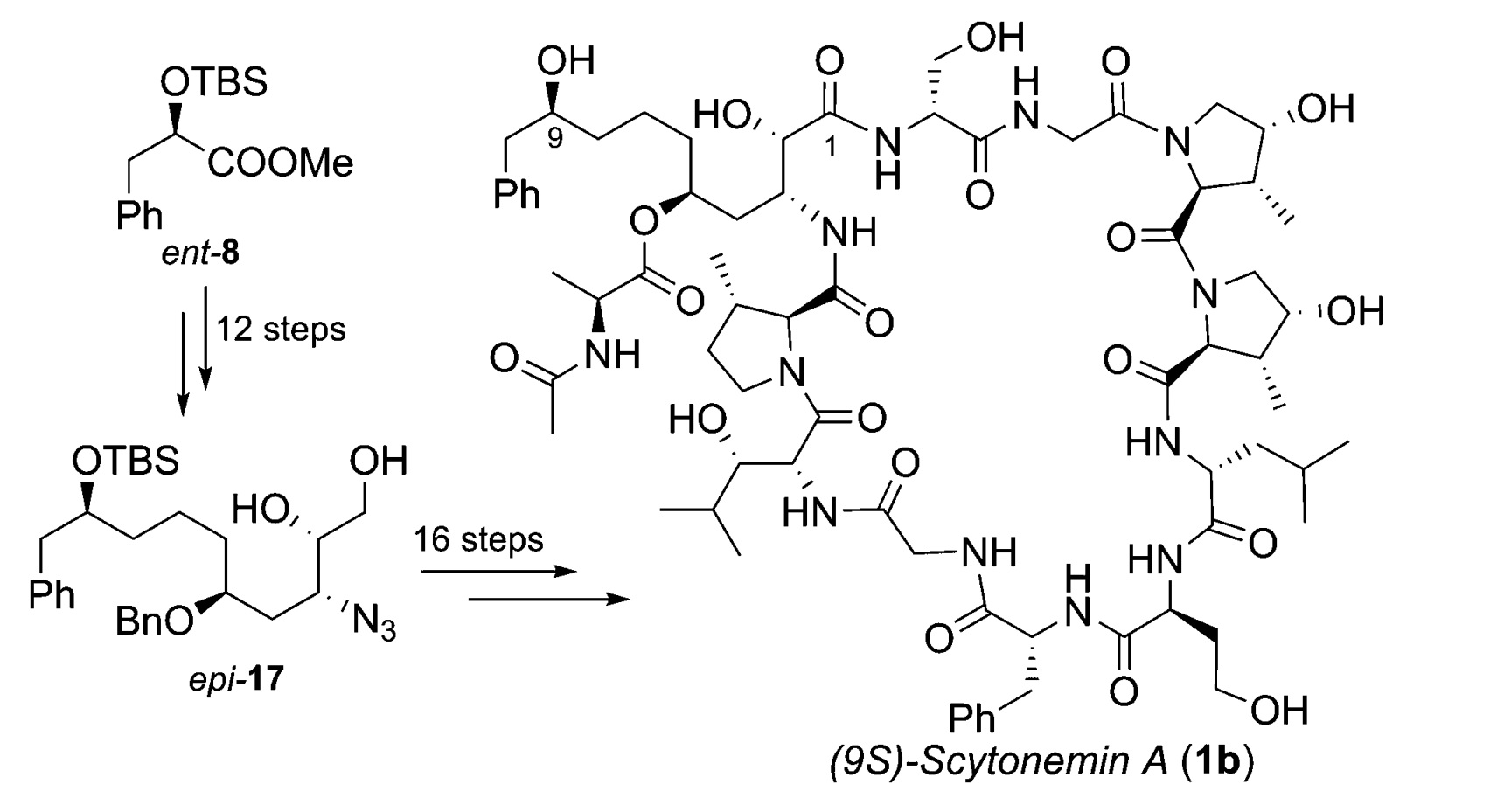 Abstract: The total synthesis of scytonemin A and its C-9 epimer, as well as elucidation of the absolute stereochemistry of natural scytonemin A is described.
Total synthesis of largamide B,Chem. Commun.,2015,51,2510

Abstract:Total synthesis of the cyanobacterial metabolite largamide B and the disproval of its originally assigned stereochemistry as well as confirmation of the revised stereochemistry are reported.

Total Synthesis and Stereochemical Reassignment of Mandelalide A, Angew. Chem. Int. Ed. 2014, 53, online paper.
Abstract: The total synthesis of the tunicate metabolite mandelalide A and the correction of its originally assigned stereochemistry are reported. Key features of the convergent, fully stereocontrolled route include the use of a Prins cyclization for the diastereoselective construction of the tetrahydropyran subunit, Rychnovsky–Bartlett cyclization for the preparation of the tetrahydrofuran moiety, Suzuki coupling, Horner–Wadsworth–Emmons macrocyclization, and glycosylation to append the l-rhamnose-derived pyranoside.
Total Synthesis of the Proposed Structure for Itralamide B, Synlett 2014, 25, 1014-1018

Abstract: A stereocontrolled total synthesis of the cyclodepsipeptide, itralamide B has been achieved. Both R- and S-stereomers of the side chain were attached to the macrocyclic ring. The structure synthesized appears to be different from that of the marine natural product.
Cross Metathesis Approach for Stereocontrolled Synthesis of C1-C15 Fragment of Rhizopodin, Synlett 2014, 25, 138-142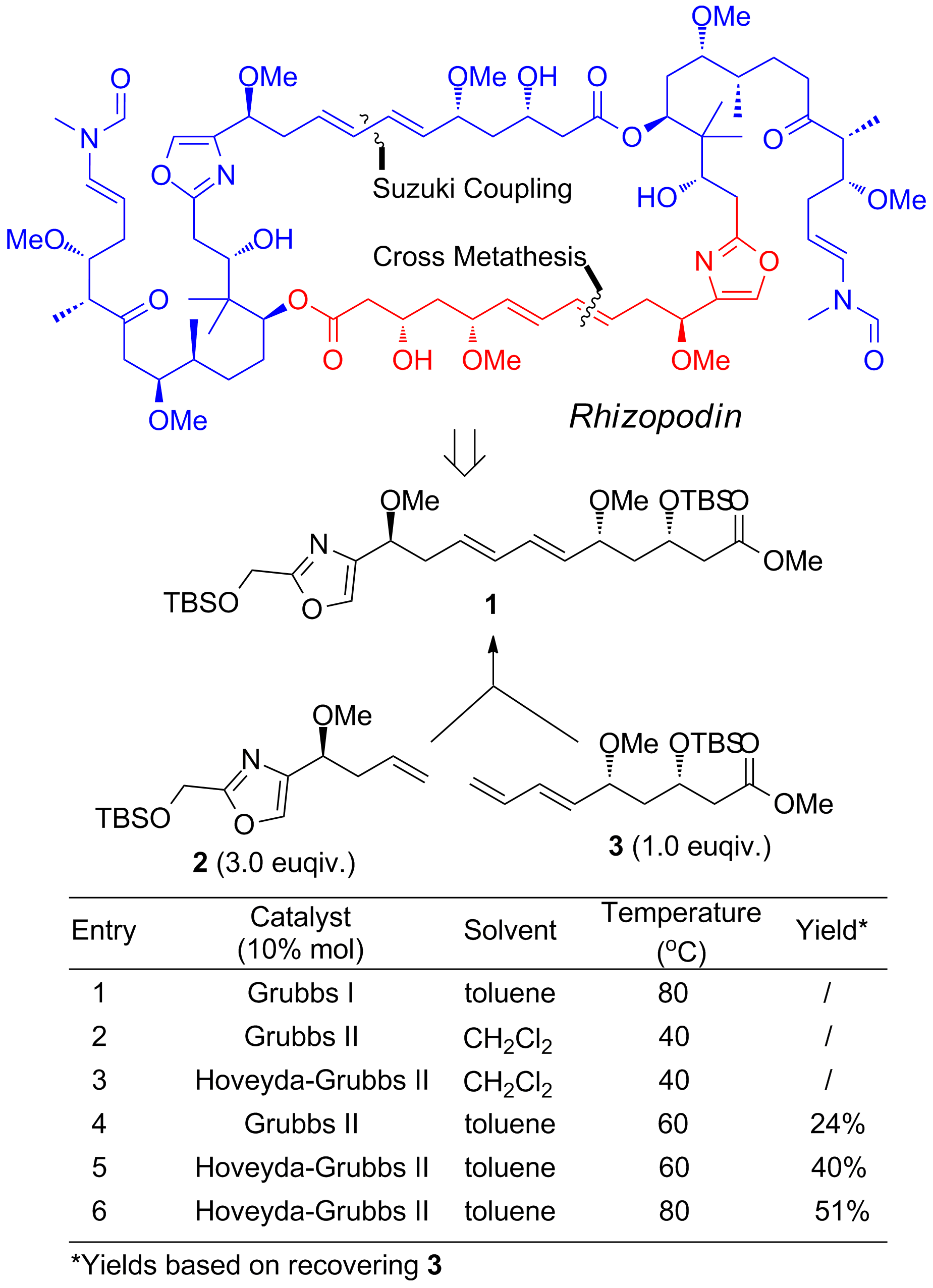 Abstract: The C1-C15 fragment of rhizopodin was synthesized via either Suzuki coupling reaction of vinyl iodide and vinyl boronate or a cross metathesis of a terminal olefin and a diene adduct in the presence of Hoveyda-Grubbs II catalyst.
Synthesis of the Macrocyclic Core of Rhizopodin-- Chem. Asian J. 2013, 8, 2955-2959.

Abstract: A stereoselective synthesis of the fully functionalized macrocyclic core of rhizopodin, a cytotoxic 38-membered macrolide, is disclosed. The key steps involve Sharpless epoxidation, Robinson−Gabriel oxazole synthesis, olefin cross-metathesis, Suzuki coupling, Yamaguchi esterification and Shiina macrolactonization.
24: Total Synthesis and Biological Evaluation of Grassypeptolide A, Chem. Eur. J. 2013, 19, 6774-6884.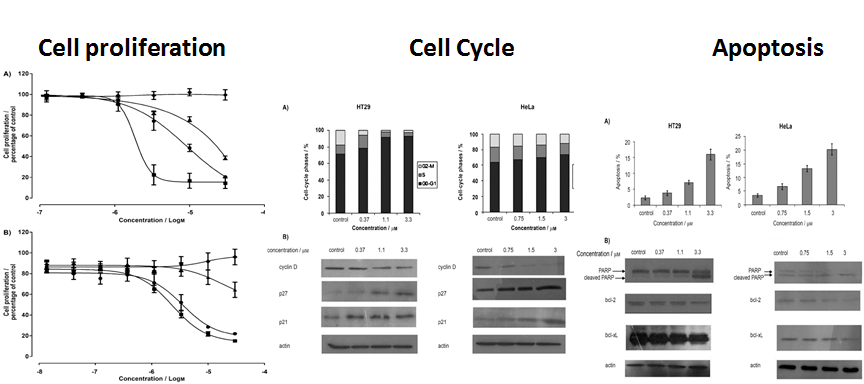 Abstract: Herein, we describe in full our investigations into the synthesis of grassypeptolide A (1) in 17 linear steps with an overall yield of 11.3%. In particular, this work features the late-stage introduction of sensitive bis(thiazoline) heterocycles and 31-membered macrocyclization conducted at the sterically congested secondary amide site in superb conversion (72% yield). Biological evaluation indicated that grassypeptolide A significantly inhibited cancer cell proliferation in a dose-dependent manner. It induced cancer cell apoptosis, which was associated with increased cleavage of poly(ADPribose) polymerase (PARP) and decreased expression of bcl-2 and bcl-xL. Furthermore, grassypeptolide A also caused cell cycle redistribution by increasing cells in the G1 phase and decreasing cells in the S and G2 phases. In addition, cell cycle arrest was correlated with downregulation of cyclin D and upregulation of p27 and p21.
Total synthesis of padanamides A and B, Chem. Commun. 2013, 49, 2977-2979.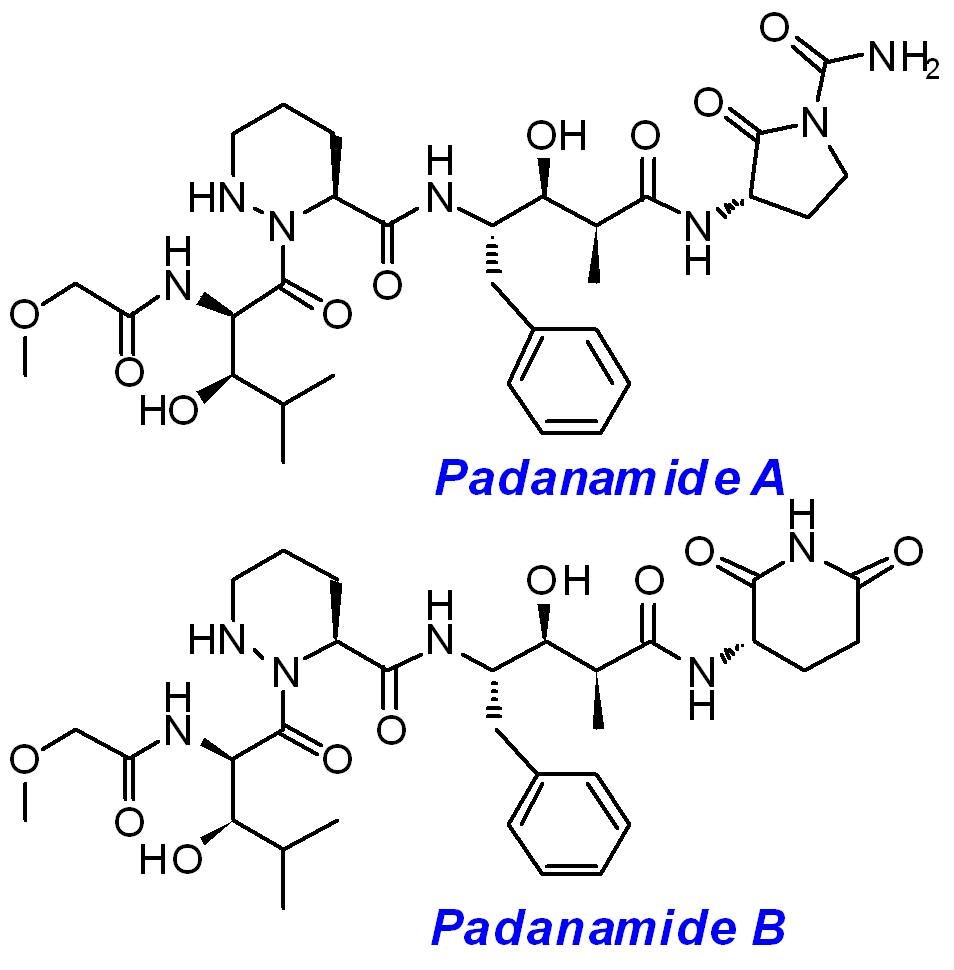 Abstract: The first total syntheses of padanamides A and B have been achieved, unambiguously confirming their structures.
This paper was selected as inner cover picture of the issue: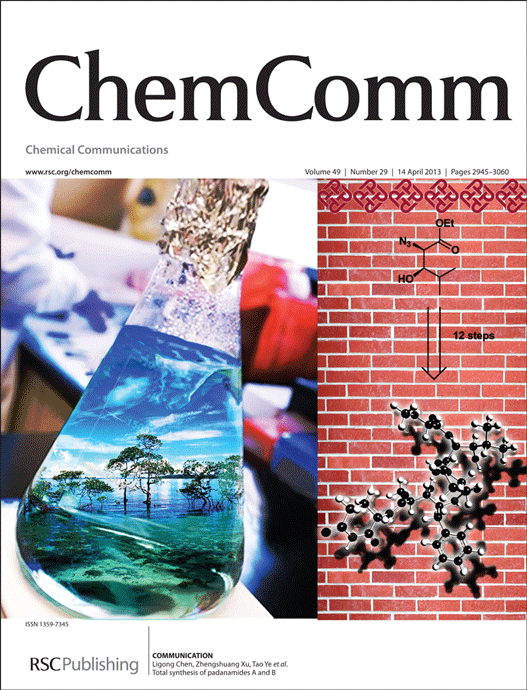 Total synthesis and stereochemical revision of lagunamide A, Chem. Commun. 2012, 48, 8697-8699.
Abstract: A revised configurational assignment for the marine metabolite lagunamide A is proposed and validated by total synthesis.