Direct C-H Amination of Arenes with Alkyl Azides under Rhodium Catalysis
时间:2013-06-25
(June, 25th, reported by Dongqi Wang)
Ever since the seminal study by Curtius on the use of alkyl azides in organic chemistry, these readily available compounds have been widely used in C-N bond-forming reactions. Recently, Sukbok Chang and co-workers reported a straightforward procedure for the insertion of an amino group into arene C-H bonds by the use of alkyl azides as the nitrogen source. Both benzyl and aliphatic azides bearing a wide range of functional groups of high biological interest reacted readily with a range of substrates containing chelating groups under RhIII catalysis (Figure 1).
Figure 1a. A rhodium-catalyzed direct C-H amination with alkyl azides. DG=directing group

Figure 1b. Selected examples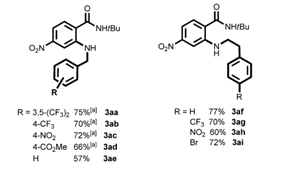 A plausible amination pathway is depicted in Figure 2.
Figure 2. Proposed mechanism of the direct C-H amination