Yang Yunfang
时间:2013-04-08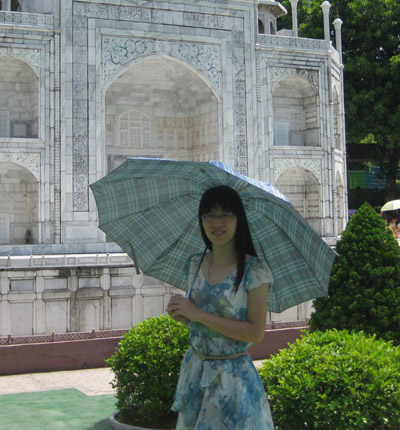 fawnpku at gmail.com
Education
B. S. (2004-2008): Department of Chemistry, Tangshan Normal College
Graduate student (2008-2009): College of Chemistry and Molecular Engineering, Peking University;
School of Chemical Biology and Biotechnology, Shenzhen Graduate School of Peking University(2009-now).
Research Area 
1. Theoretical and computational study of organic reactions.
2. Developing force field for studying ring-closure reactions.
 Awards: 
2010-2011: Peking University May Fourth Scholarship
2011: Morningside Scholarship for Excellent Publication (Second-Class Award)
2011: Excellent Volunteer in the 26th Summer Universiade, Shenzhen.
 Publications
 1. Che, C.; Liu, L.; Gong, J.; Yang, Y.-F.; Wang, G.; Quan, J.; Yang, Z. "Construction of All-Carbon Quaternary Center by R2AlCl−Mediated Ring-Opening Reaction of Oxacycles." Org. Lett. 2010, 12, 488-491.
2.      Liang, Y.; Wang, L.; Zhu, R.; Deng, L.; Yang, Y-F.; Quan, J.; Chen, J.; Yang, Z. "An Unprecedented Silver Salt Effect Switches the Facial Selectivity in the Vinylogous Mukaiyama Aldol Reaction." Adv. Synth. Catal. 2010, 352, 2387-2393.
3.      Yang, Y.-F.; Shi, T.; Zhang, X.-H.; Tang, Z.-X.; Wen, Z.-Y.; Quan, J.-M.; Wu, Y.-D. "Theoretical studies on the mechanism and stereoselectivity of Rh(Phebox)-catalyzed asymmetric reductive aldol reaction." Org. & Biomol. Chem. 2011, 9, 5845-5855.
4.      Yang, Y.-F.; Cheng, G.-J.; Zhu, J.; Zhang, X.; Inoue, S.; Wu, Y.-D. "Silicon-Containing Formal  4pi-Electron Four-Membered Ring Systems: Antiaromatic, Aromatic, or Not?" Chem. Eur. J.2012, 18, 7516-7524.