Part I: Total Synthesis of Bioactive Natural Products and Related Studies
Genome Mining and Assembly-Line Biosynthesis of the UCS1025A Pyrrolizidinone Family of Fungal Alkaloids, J. Am. Chem. Soc. 2018, 140, 2067-2071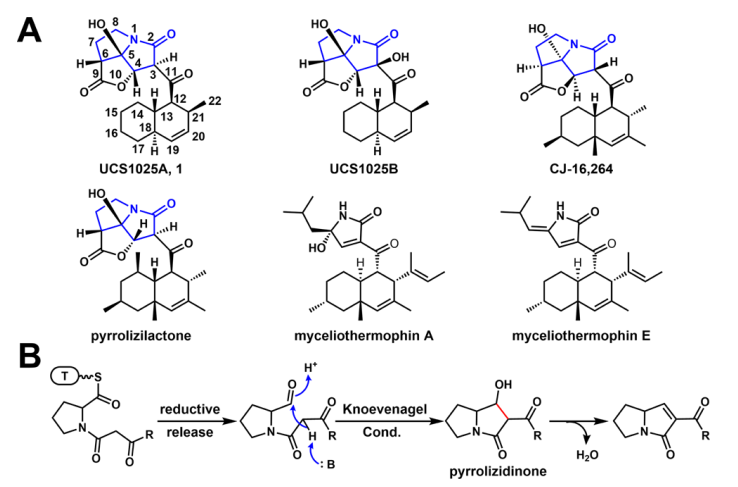 Abstract: UCS1025A is a fungal polyketide/alkaloid that displays strong inhibition of telomerase. The
structures of UCS1025A and related natural products are featured by a tricyclic furopyrrolizidine connected to a
trans-decalin fragment. We mined the genome of a thermophilic fungus and activated the ucs gene cluster to
produce UCS1025A at a high titer. Genetic and biochemical analysis revealed a PKS-NRPS assembly line
that activates 2S,3S-methylproline derived from L-isoleucine, followed by Knoevenagel condensation to
construct the pyrrolizidine moiety. Oxidation of the 3Smethyl group to a carboxylate leads to an oxa-Michael
cyclization and furnishes the furopyrrolizidine. Our work reveals a new strategy used by nature to construct heterocyclic alkaloid-like ring systems using assembly line logic.
Formal Synthesis of Kanamienamide, Synlett 2018, 29, 964–968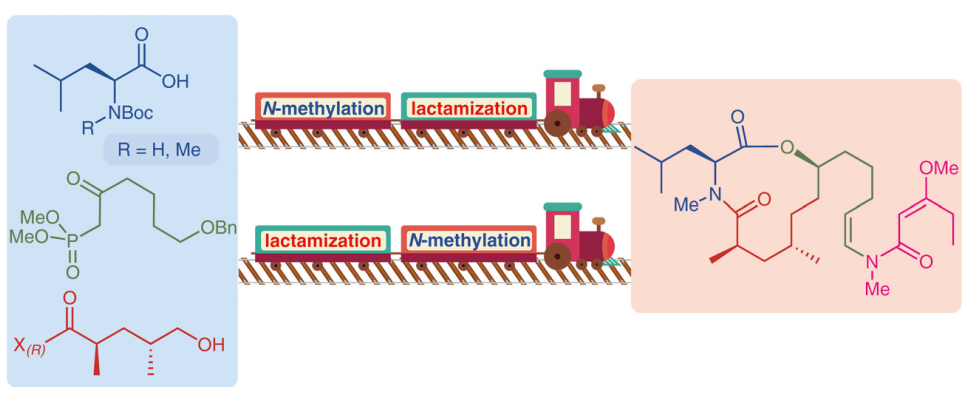 Abstract: A formal total synthesis of the anticancer natural product kanamienamide has been accomplished. This communication describes two approaches to the macrocyclic core of the natural product. The key features of the route include an efficient macrolactamization, a Corey–Bakshi–Shibata asymmetric reduction, and a Stork–Zhao–Wittig olefination.
Total synthesis of Luteoalbusin A and formal synthesis of T988C, Synlett 2018, 29, 613-616

Studies toward the Synthesis of Iriomoteolide-2a: Construction of the C(6)−C(28) Fragment, Org. Lett. 2018, 20, 2213-2215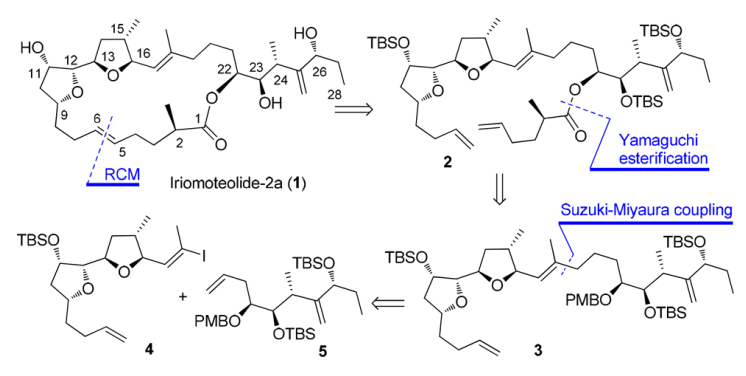 Abstract: The synthesis of an appropriately functionalized advanced C(6-28) fragment (3) of the marine macrolide iriomoteolide-2a (1) has been achieved in a highly efficient manner. The C(6)-C(18) fragment of 1 is prepared via a radical cyclization of a vinyl ether intermediate and palladium-promoted hydrostannylation/iodination. Paterson aldol reaction and Peterson olefination are used to construct the C(19)-C(28) fragment. The union of the C(6)-C(18) and C(19)-C(28) fragments is accomplished via a Suzuki-Miyaura coupling reaction.
Total synthesis of amphidinins E, F and epi-amphidinin F,Org. Chem. Front., 2017,ASAP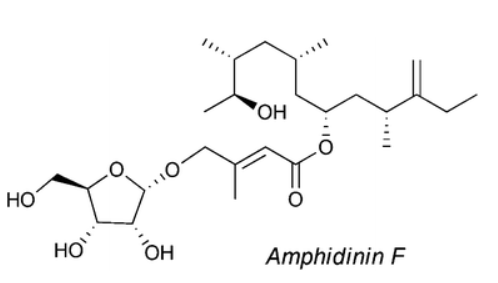 Abstract:A unified approach leading to the total synthesis of amphidinins E, F and epi-amphidinin F of a new structural class of linear marine polyketides is described
Total syntheses of smenothiazoles A and B,Org. Biomol. Chem., 2017, 15, 7196–7203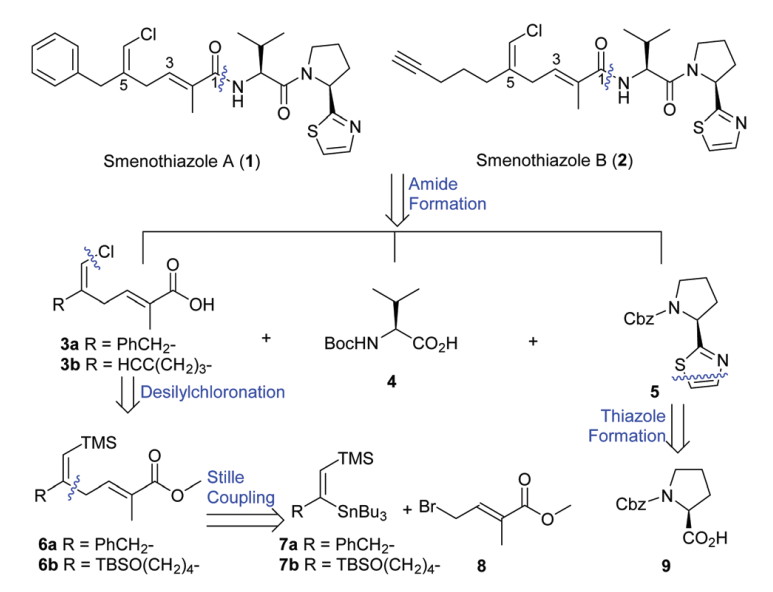 Abstract:Concise total syntheses of smenothiazoles A (1) and B (2), two distinguished vinyl chloride containing natural products isolated from the marine sponge S. aurea, have been developed. Silastannation, Stille reaction and a carefully controlled desilylchlorination were employed as key steps to construct unique polyketide acid fragments, and the optimized reaction conditions avoided migration of 2,5-diene to a 2,4-conjugated system. This report unambiguously confirmed the structures of both natural products
Regio- and Stereospecific Construction of 3a-(1H-Indol-3-yl)pyrrolidinoindolines and Application to the Formal Syntheses of Gliocladins B and C,Org. Lett. 2017, 19, 5134−5137

Abstract: A one-pot regio- and stereospecific strategy for the construction of 3a-(3-indolyl)-hexahydropyrrolo[2,3-b]indoles based on the condensation of an indole and an in situ generated cyclopropylazetoindoline has been developed. This unified strategy works with a variety of substituted indoles to produce 3a-(3-indolyl)-hexahydropyrrolo[2,3-b]indole products in high yields. The utility of this transformation was highlighted in the formal total syntheses of gliocladins B and C.
Total Synthesis and StereochemicalAssignment of Actinoranone,Chem. Eur.J .2017, 23,3572–3576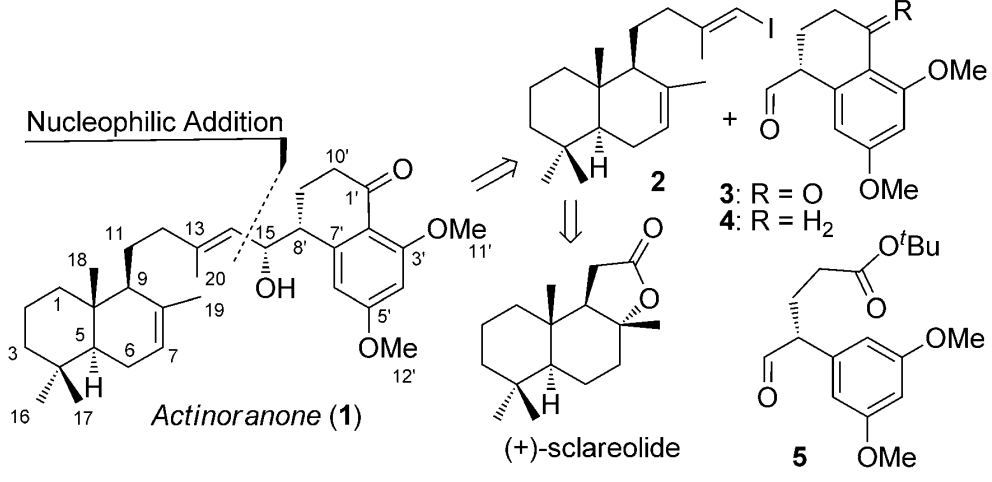 Abstract: The total synthesis of four actinoranone stereoisomersled to unambiguous assignment of relative and absolute stereochemistry of the natural product. Key features of the convergent, fully stereocontrolled route include the use of aN egishi carbozirconation/iodination, a Friedel–Craftscyclization,aFelkin-controlled additionreaction,aMitsunobu reaction, and alate-stage C-H oxidation.
Concise Total Synthesis of Nannocystin A,Angew. Chem. Int. Ed. 2016, 55, ASAP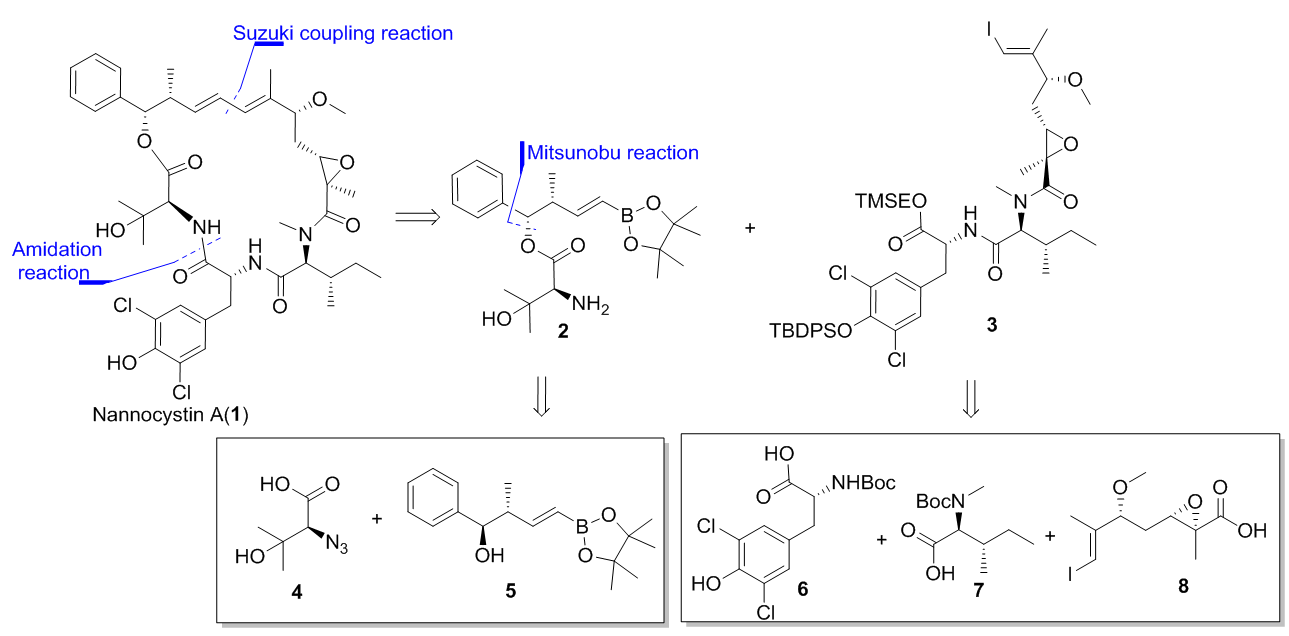 Abstract:Nannocystin A, a structurally unique 21-membered macrocyclic depsipeptide with low nanomolar inhibitory activity against elongation factor 1A, was synthesized according to a strategy involving the vinylogous Mukaiyama aldol reaction, Sharpless epoxidation, olefin metathesis, the Mitsunobu reaction, and a palladium-catalyzed intramolecular Suzuki coupling of a highly complex cyclization substrate. The overall synthesis is efficient and paves the way for preparation of analogues for drug development efforts.
Total Synthesis and Stereochemical Assignment of Callyspongiolide, J. Am. Chem. Soc., 2016, 138, 6948
Abstract: Total synthesis of four callyspongiolide stereoisomers led to unambiguous assignment of relative and absolute stereochemistry of the natural product. Key features of the convergent, fully stereocontrolled route include the use of Krische allylation, Kiyooka Aldol reaction, Kociénski−Julia olefination, Still−Gennari olefination, Yamaguchi macrocyclization, and Sonogashira coupling reaction. Biological evaluation of the synthesized compounds against an array of cancer cells revealed that the stereochemistry of the macrolactone core played an important role.
Discovery, Total Synthesis and Key Structural Elements for the Immunosuppressive Activity of Cocosolide, a Symmetrical Glycosylated Macrolide Dimer from Marine Cyanobacteria, Chem. Eur. J., 2016, 22, 8158

Abstract: A new dimeric macrolide xylopyranoside, cocosolide (1), was isolated from the marine cyanobacterium preliminarily identified as Symploca sp. from Guam. The structure was determined by a combination of NMR spectroscopy, HRMS, X-ray diffraction studies and Mosher's analysis of the base hydrolysis product. Its carbon skeleton closely resembles that of clavosolides A–D isolated from the sponge Myriastra clavosa, for which no bioactivity is known. We performed the first total synthesis of cocosolide (1) along with its [α,α]-anomer (26) and macrocyclic core (28), thus leading to the confirmation of the structure of natural 1. The convergent synthesis featured Wadsworth–Emmons cyclopropanation, Sakurai annulation, Yamaguchi macrocyclization/dimerization reaction, α-selective glycosidation and β-selective glycosidation. Compounds 1 and 26 potently inhibited IL-2 production in both T-cell receptor dependent and independent manners. Full activity requires the presence of the sugar moiety as well as the intact dimeric structure. Cocosolide also suppressed the proliferation of anti-CD3-stimulated T-cells in a dose-dependent manner.
The total synthesis and stereochemical assignment of scytonemin A, Chem. Commun.,2016, 52, 1002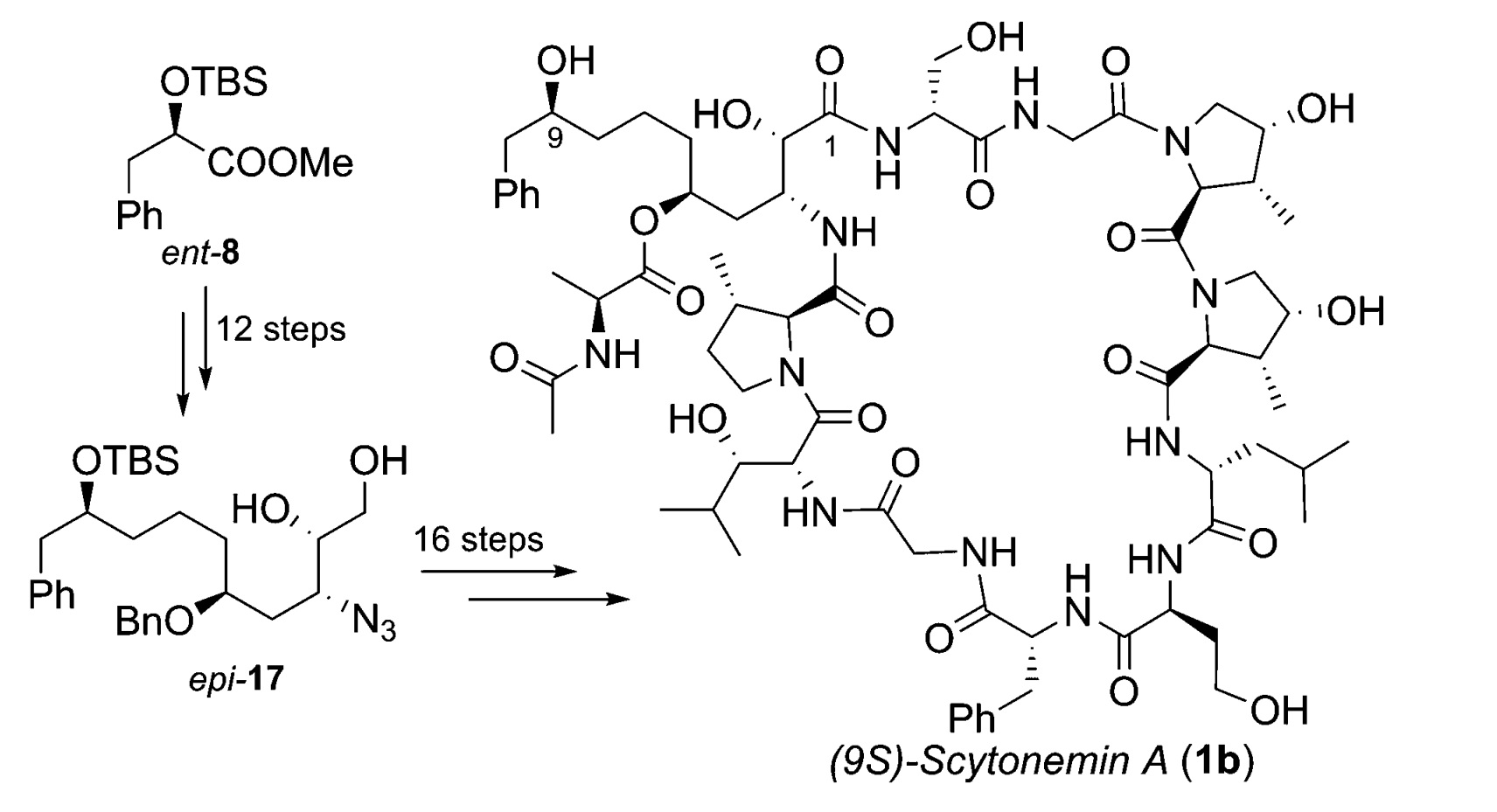 Abstract: The total synthesis of scytonemin A and its C-9 epimer, as well as elucidation of the absolute stereochemistry of natural scytonemin A is described.
Total synthesis of largamide B,Chem. Commun.,2015,51,2510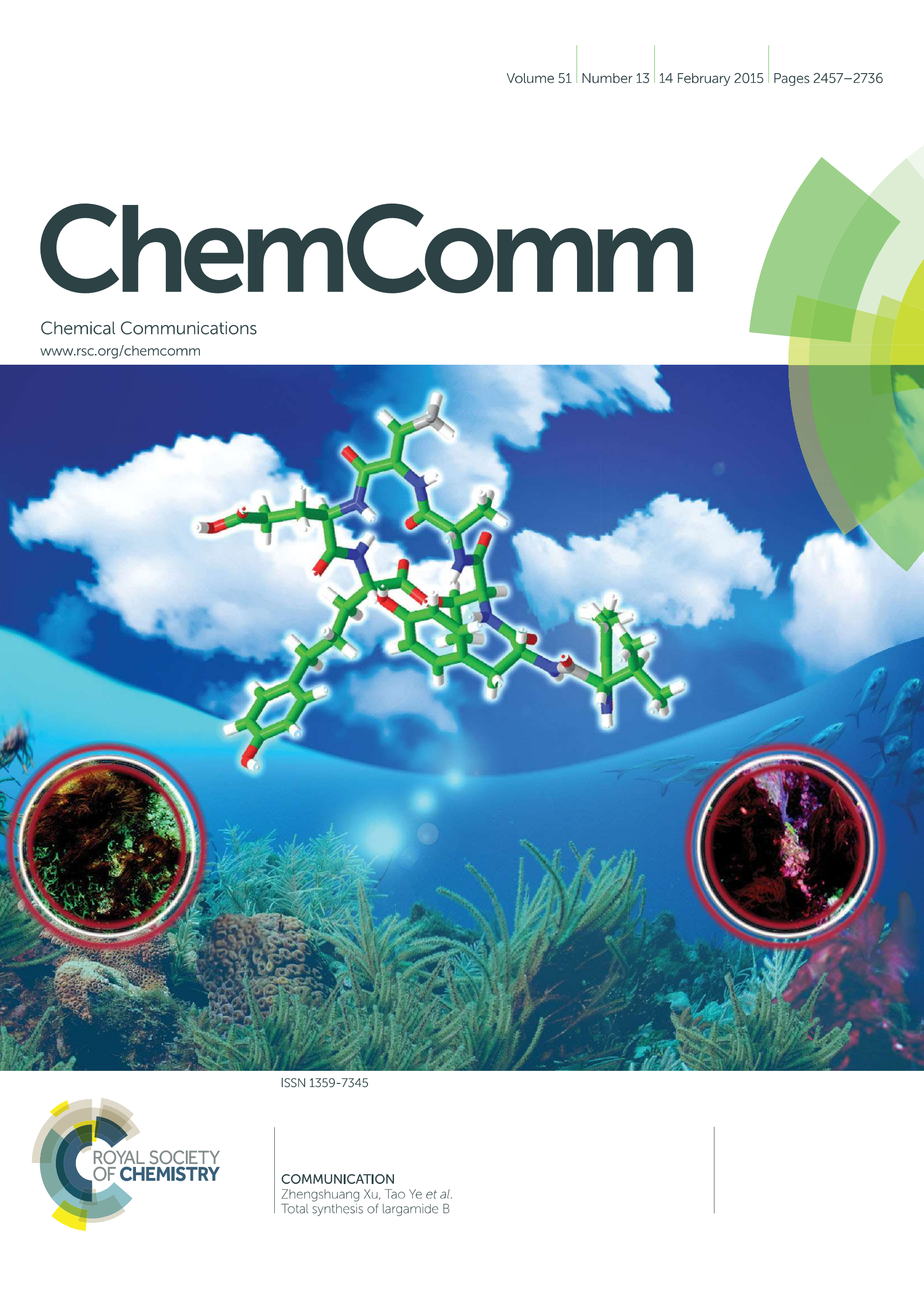 Abstract:Total synthesis of the cyanobacterial metabolite largamide B and the disproval of its originally assigned stereochemistry as well as confirmation of the revised stereochemistry are reported.
Total Synthesis and Stereochemical Reassignment of Mandelalide A, Angew. Chem. Int. Ed. 2014, 53, online paper.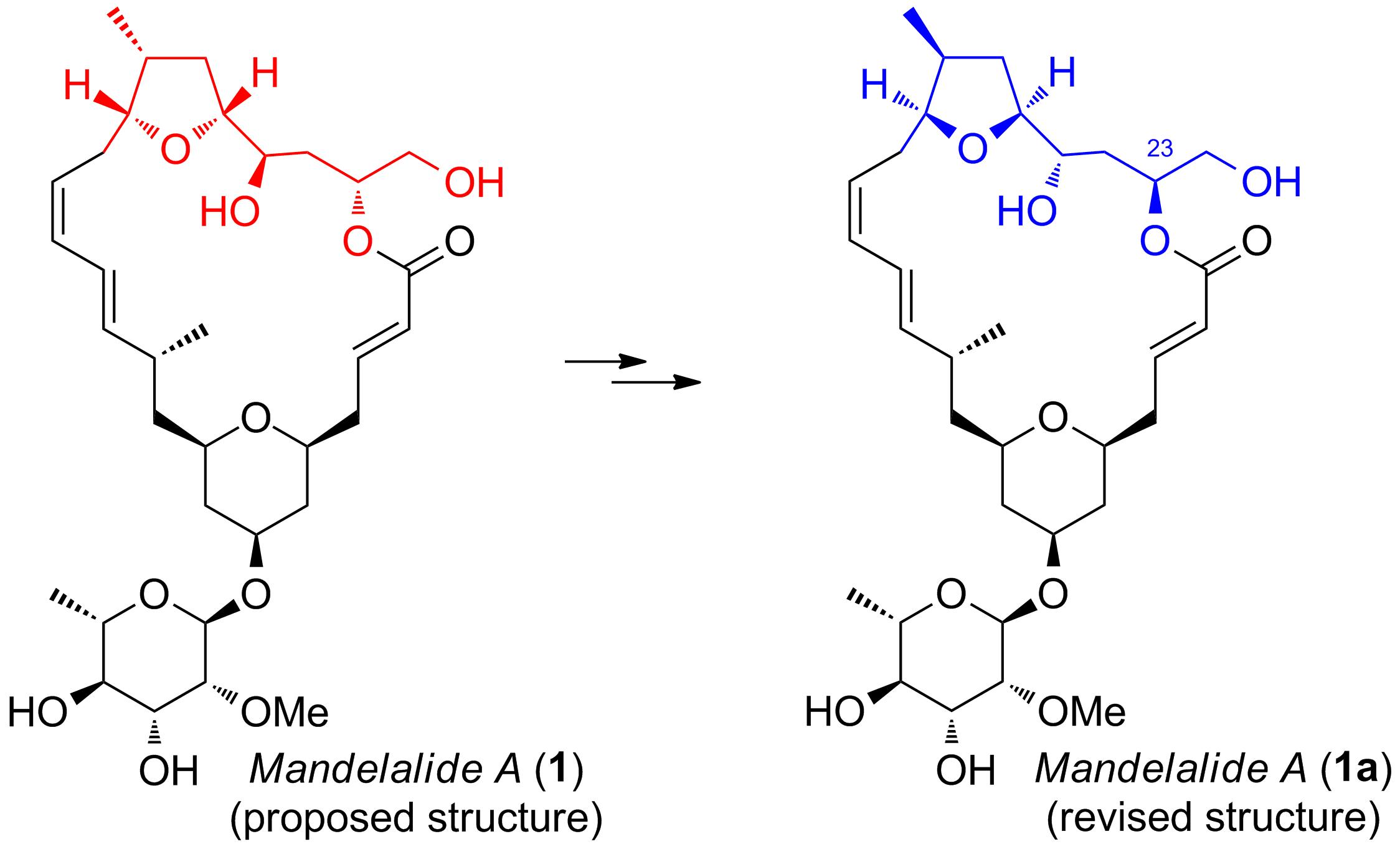 Abstract: The total synthesis of the tunicate metabolite mandelalide A and the correction of its originally assigned stereochemistry are reported. Key features of the convergent, fully stereocontrolled route include the use of a Prins cyclization for the diastereoselective construction of the tetrahydropyran subunit, Rychnovsky–Bartlett cyclization for the preparation of the tetrahydrofuran moiety, Suzuki coupling, Horner–Wadsworth–Emmons macrocyclization, and glycosylation to append the l-rhamnose-derived pyranoside.
Total Synthesis of the Proposed Structure for Itralamide B, Synlett 2014, 25, 1014-1018

Abstract: A stereocontrolled total synthesis of the cyclodepsipeptide, itralamide B has been achieved. Both R- and S-stereomers of the side chain were attached to the macrocyclic ring. The structure synthesized appears to be different from that of the marine natural product.
Cross Metathesis Approach for Stereocontrolled Synthesis of C1-C15 Fragment of Rhizopodin, Synlett 2014, 25, 138-142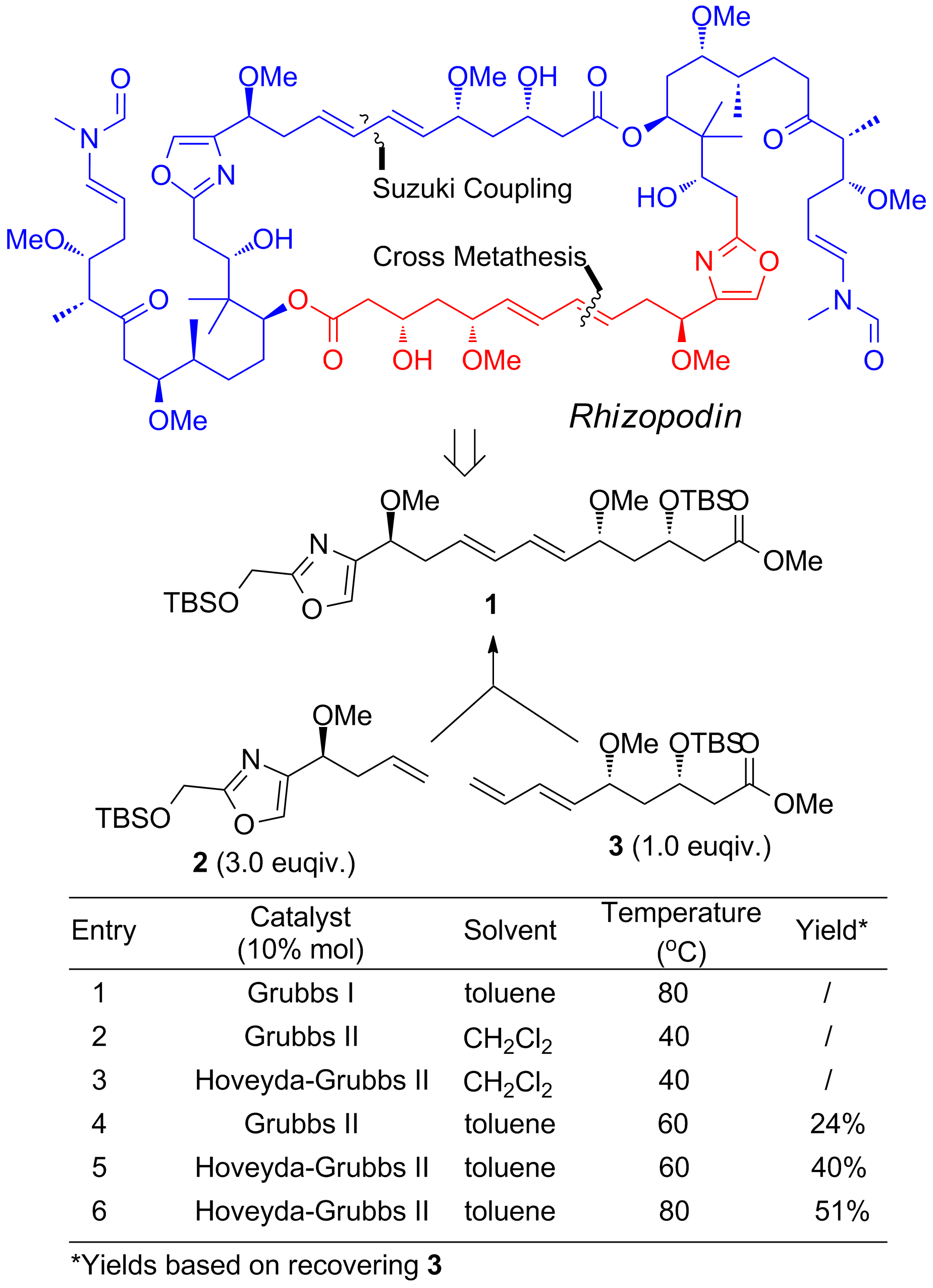 Abstract: The C1-C15 fragment of rhizopodin was synthesized via either Suzuki coupling reaction of vinyl iodide and vinyl boronate or a cross metathesis of a terminal olefin and a diene adduct in the presence of Hoveyda-Grubbs II catalyst.
Synthesis of the Macrocyclic Core of Rhizopodin– Chem. Asian J. 2013, 8, 2955-2959.

Abstract: A stereoselective synthesis of the fully functionalized macrocyclic core of rhizopodin, a cytotoxic 38-membered macrolide, is disclosed. The key steps involve Sharpless epoxidation, Robinson−Gabriel oxazole synthesis, olefin cross-metathesis, Suzuki coupling, Yamaguchi esterification and Shiina macrolactonization.
24: Total Synthesis and Biological Evaluation of Grassypeptolide A, Chem. Eur. J. 2013, 19, 6774-6884.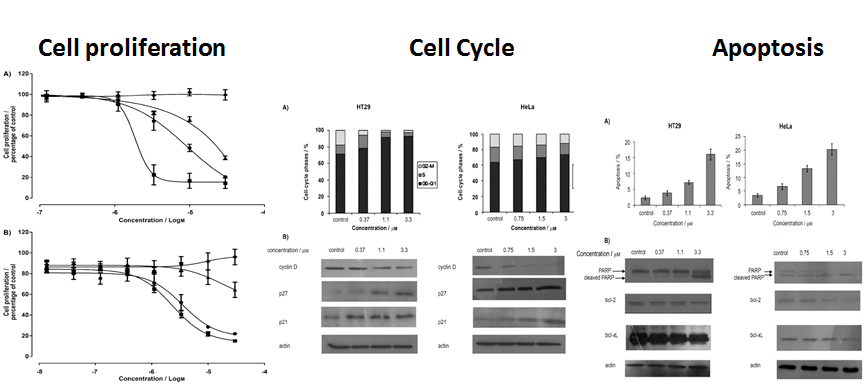 Abstract: Herein, we describe in full our investigations into the synthesis of grassypeptolide A (1) in 17 linear steps with an overall yield of 11.3%. In particular, this work features the late-stage introduction of sensitive bis(thiazoline) heterocycles and 31-membered macrocyclization conducted at the sterically congested secondary amide site in superb conversion (72% yield). Biological evaluation indicated that grassypeptolide A significantly inhibited cancer cell proliferation in a dose-dependent manner. It induced cancer cell apoptosis, which was associated with increased cleavage of poly(ADPribose) polymerase (PARP) and decreased expression of bcl-2 and bcl-xL. Furthermore, grassypeptolide A also caused cell cycle redistribution by increasing cells in the G1 phase and decreasing cells in the S and G2 phases. In addition, cell cycle arrest was correlated with downregulation of cyclin D and upregulation of p27 and p21.
Total synthesis of padanamides A and B, Chem. Commun. 2013, 49, 2977-2979.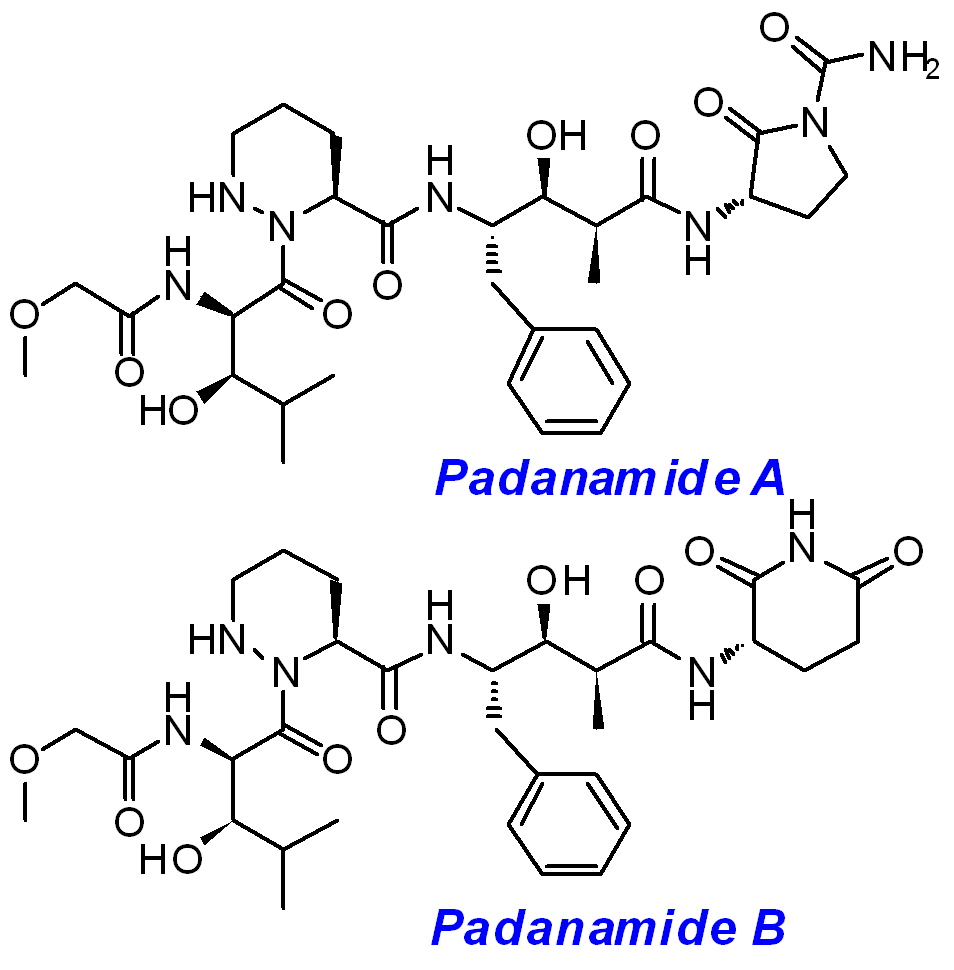 Abstract: The first total syntheses of padanamides A and B have been achieved, unambiguously confirming their structures.
This paper was selected as inner cover picture of the issue: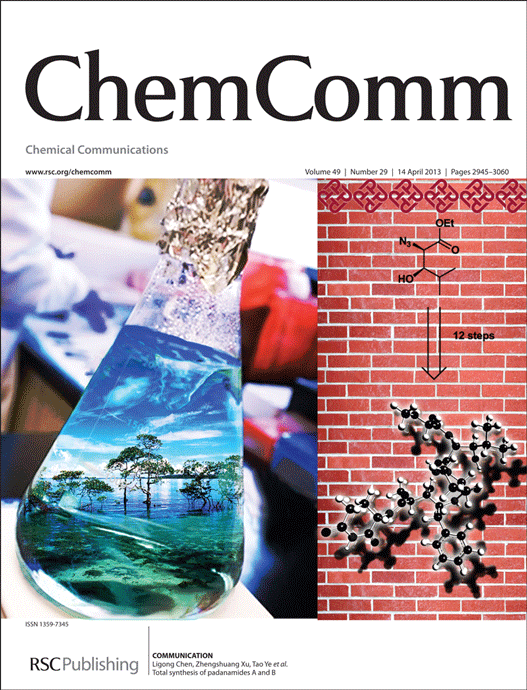 Total synthesis and stereochemical revision of lagunamide A, Chem. Commun. 2012, 48, 8697-8699.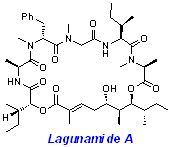 Abstract: A revised configurational assignment for the marine metabolite lagunamide A is proposed and validated by total synthesis.