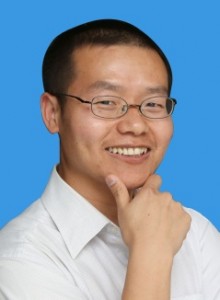 李勤凯
职务:副课题组组长,副教授
电话:+86-755-2603-3257
邮箱:liqk@pkusz.edu.cn
教育背景及工作经历

2013 – 至今        北京大学深圳研究生院,副教授

2012 – 2013        中科院重庆分院,副研究员

2009 – 2012        德岛大学附属医院,博士后/助理教授

2006 – 2009        德岛大学,理学博士

2003 – 2006        南华大学,理学硕士

1999 – 2003        江西中医药大学,理学学士

奖项及荣誉

2014 深圳市孔雀计划 (C类)
2011 Outstanding Young investigator awarded by Japan Diabetes Society (Japan)
2011 The best young researcher at Tokushima University (Japan)
2006-2009 Japanese Government (Monbukagakusho: MEXT) Scholarship (Japan)

研究兴趣

蛋白-蛋白相互作用调控着细胞的代谢及行为学特征。研究细胞内蛋白-蛋白相互作用及其相关信号传导系统有助于从分子角度理解人体生理及病理过程。我们的主要研究方向是充分利用交叉学科知识及手段阐明某些关键蛋白的相互作用对细胞代谢及其相关疾病发生发展的机理,从而为开发这类疾病的治疗性药物提供行之有效的策略及分子靶点。

代表性成果

1.  Xu Y, An X, Guo X, Habtetsion TG, Wang Y, Xu X, Kandala S, Li Q, Li H, Zhang C, Caldwell RB, Fulton DJ, Su Y, Hoda MN, Zhou G, Wu C, Huo Y*.Endothelial PFKFB3 plays a critical role in angiogenesis. Arterioscler Thromb Vasc Biol. 2014 Jun;34(6):1231-9. doi: 10.1161/ATVBAHA.113.303041.
2.  Dai Y, Jia Y, Chen N, Bian W, Li Q, Ma Y, Chen Y, Pei D*. Zebrafish as a model system to study toxicology. Environ Toxicol Chem. 2014 Jan; 33(1):11-7. doi: 10.1002/etc.2406.
3.  Li Q*, Hosaka T, Harada N, Nakaya Y. Activation of Akt through 5-HT2A receptor ameliorates serotonin-induced degradation of insulin receptor substrate-1 in adipocytes. Mol Cell Endocrinol. 2013 Jan 5; 365(1):25-35. doi: 10.1016/j.mce.2012.08.022.
4.  Li Q, Hosaka T, Shikama Y, Bando Y, Kosugi C, Kataoka N, Nakaya Y, Funaki M*. Heparin-Binding EGF-Like Growth Factor (HB-EGF) Mediates 5-HT-Induced Insulin Resistance Through Activation of EGF Receptor-ERK1/2-mTOR Pathway. Endocrinology. 2012 Jan; 153(1):56-68.
5.  Liu Y*, Wang Z, Yin W, Li Q, Cai M, Yu J, Li H, Zhang C, Zu X. Preventive effect of Ibrolipim on suppressing lipid accumulation and increasing lipoprotein lipase in the kidneys of diet-induced diabetic minipigs. Lipids Health Dis. 2011 Jul 16; 10:117.
6.  Li Q*, Hata A, Kosugi C, Kataoka N, Funaki M. The density of extracellular matrix proteins regulates inflammation and insulin signaling in adipocytes. FEBS Lett. 2010 Oct 8; 584(19):4145-50. Epub 2010 Sep 15.
7.  Li Q, Yin W*, Cai M, Liu Y, Hou H, Shen Q, Zhang C, Xiao J, Hu X, Wu Q, Funaki M, Nakaya Y. NO-1886 suppresses diet-induced insulin resistance and cholesterol accumulation through STAT5-dependent upregulation of IGF1 and CYP7A1. J Endocrinol. 2010 Jan; 204(1):47-56.
8.  Li Q, Hosaka T, Jambaldorj B, Nakaya Y, Funaki M*. Extracellular matrix with the rigidity of adipose tissue helps 3T3-L1 adipocytes maintain insulin responsiveness. J Med Invest. 2009 Aug; 56(3-4):142-9.
9.  Liu Y*, Wang Z, Yin W, Li Q, Cai M, Zhang C, Xiao J, Hou H, Li H, Zu X. Severe insulin resistance and moderate glomerulosclerosis in a minipig model induced by high-fat/ high-sucrose/ high-cholesterol diet. Exp Anim. 2007 Jan; 56(1):11-20.
10.  Hu X, She M, Hou H, Li Q, Shen Q, Luo Y, Yin W*. Adiponectin decreases plasma glucose and improves insulin sensitivity in diabetic Swine. Acta Biochim Biophys Sin (Shanghai). 2007 Feb;39(2):131-6.
11.  Zhang C, Yin W*, Liao D, Huang L, Tang C, Tsutsumi K, Wang Z, Liu Y, Li Q, Hou H, Cai M, Xiao J. NO-1886 upregulates ATP binding cassette transporter A1 and inhibits diet-induced atherosclerosis in Chinese Bama minipigs. J Lipid Res. 2006 Sep; 47(9):2055-63.
12.  Cai M, Yin W*, Li Q, Liao D, Tsutsumi K, Hou H, Liu Y, Zhang C, Li J, Wang Z, Xiao J. Effects of NO-1886 on inflammation-associated cytokines in high-fat/high-sucrose/high-cholesterol diet-fed miniature pigs. Eur J Pharmacol. 2006 Jul 1; 540(1-3):139-46.